List Your RV on Outdoorsy
Earn great money renting your RV when you're not using it!
See How Much You Can Make
Why List on Outdoorsy
---
Outdoorsy is the largest and most trusted RV rental marketplace. Renting your RV on Outdoorsy is made simple and secure with our unique benefits and offerings. Rent your RV with complete peace of mind.
$1M insurance covering both renter and owner
24/7 RV Rental Roadside Assistance
Dedicated customer support team
93% Average 5+ star reviews
Hear from the Outdoorsy Community
---
Start earning money renting your RV today
Antje & Harold Kirschner
Nathan and his family were wonderful guests! He was very patient and attentive during the orientation at pick-up. They brought our cricket back just as clean as on day one.
Owner
Nathan Knight
From start to finish, Harold and Antje have been incredibly helpful and accommodating. We loved our first experience of cricket camping!
Renter
Owner Story
Our RV is a great source of income for us. My husband is the only one working and it's nice to have something to do to bring in extra money.
— Katie Lussier made $5,000 renting out Dusty,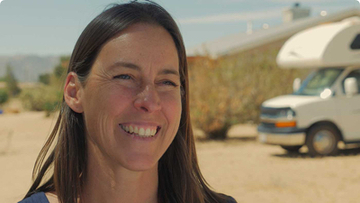 Watch Katie's Success Story
Questions?
---
How does insurance work?
Outdoorsy's $1 million liability insurance policy covers your RV or trailer whenever it's being rented. You're also covered for theft and damage subject to our policies.
How are renters verified?
All renters pass an extensive driving history check. Only approved renters will be allowed to request your RV.
Can I decide who can rent my RV?
Yes. You will always have the final say in who gets to rent your RV.
How do renters pick up my RV?
You'll arrange to meet with renters on the day of pick up to exchange keys & give them a walkthrough of your RV.
How do I get paid?
Payments are deposited directly into your bank 24 hours after your RV has been picked up.
How much does it cost to list?
It's FREE to list on Outdoorsy. A small transaction fee is taken from each successful booking.
Roadside Assistance
We provide the first ever pay-as-you-go roadside assistance for all RV rentals.