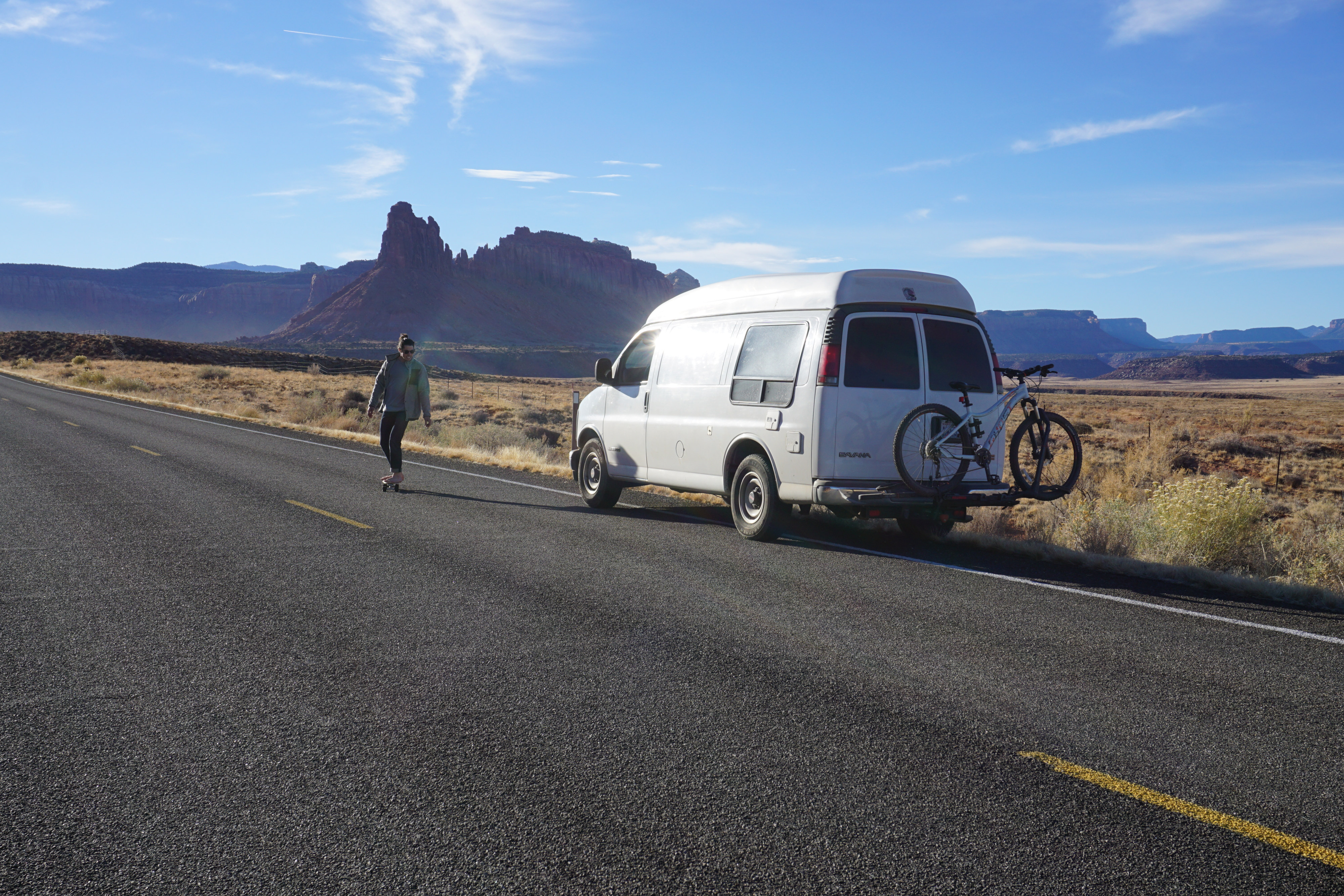 4.8
Outdoorsy member
Host since May 2018
---
---
100% response rate
Typically responds in less than 12 hours
About John VanPatten
My name is John. I love my family, cars, and traveling. I am managing this account for my daughter, Lizzy VanPatten, a professional rock climber who owns the van and uses it in the spring and fall.
4.8
Outdoorsy member
Host since May 2018
---
---
100% response rate
Typically responds in less than 12 hours
---
Memories made on trips with John VanPatten's RVs
---
Maddie P.
5•September 2021
Great communication and the van was clean/perfect for what I was looking for! Thanks John! 🙏🏾
1 Photo submitted by Maddie P.
John VanPatten canceled the booking 2 days before departure. This is an automated posting.
The whole process was easy and convenient. Loved the van. It was perfect for our needs. John was quick to respond to any questions and very friendly/helpful.
2 Photos submitted by Heather P.
AWESOME TIME. THANK YOU!!!
1 Photo submitted by Kathryn N.
Lizzy's van was awesome! The bed was very comfortable, the van was reliable, and very spacious. Lizzy is a great hostess, she answered all my messages very quickly and gave some great recommendations.
Just know if you are renting this van come prepared!! Just like she says in the description, there are limited supplies. *Also bring a speaker incase you want to listen to music because the radio was not working.
Overall the experience was great and I would totally rent from her again.
Lizzy's van was perfect for a little weekend get away! She has great communication, responds fast and is super helpful. The van is definitely well used but totally worth it. The bed is really comfortable, there was plenty of propane and storage space!
I can't say enough about Lizzy and her fabulous van. My lady and I did a 2 week walkabout on a budget and this was the perfect solution. Lizzy was super communicative and flexible and accommodating. The van was exactly as she described and everything was clean and working properly. We ended up keeping it for a few extra days and Lizzy was so great about making it easy for us to do so. She also worked with us to stock the van with only what we needed. It turned out to be the perfect fit and great value.
This is an easy five star rating for Lizzy's awesome van! The van is described perfectly. It has some miles on it, and it still has get up and go. I've owned two VW Westfalia camper vans and this was a step up. It's not fancy, but still offers a great camping experience. I have all the gear, but there was a great solar hook up, and dishes if you need them. Excellent communication from beginning to end. Thank you, Lizzy!
Lizzie was prompt with answers to questions and lovely to deal with. The bed was comfy for two (shorter - 63") people and there was plenty of storage. There were solar powered lights and a solar charger. We LOVED that. Additionally - the space was well laid out. I would recommend this rental.
It's a great van to go cruise around the country. And Lizzy is very easy to work with throughout the experience.
Lizzy was super helpful with camper van tips and tricks as well as very easy to get a hold of with any needs we had. The van is comfy; nice comfy seats, great mattress in the back (if you are under 5' 8" you can sleep normally! Otherwise, diagonal city for you!). There is a lot of storage!
7 Photos submitted by Gaetana G.
Shauntae M.
1•September 2018
This was suppose to be the ultimate birthday/college graduation trip unfortunately, this trip was the complete nightmare due to the van breaking down. I spent months researching the area of Washington and Oregon as we had never been to the west coast before booking this van. We had the van less than 24 full hours before breaking down in a national park (no cell service) after driving only 3 hours to diablo lake from Seattle. This was our home and transportation for a week since we flew from across the country from the south east coast and were only there for 6 days before we flew back! Instead of nature, hiking, and camping our week turned into a stressful hotel stay/car renting/ not being able to visit half the places on the itinerary/ $1400 extra dollars than we planned on spending!! Due to waiting overnight+ a whole day (until 11 pm the next day) for a tow truck only to tow us to Everette. I researched all night contacting people once we got to cell service finding a new rental (no rental on outdoorsy with such short notice would be ready so we had to uber to enterprise 2 days later to get a rental CAR after having no other options). Although Lizzy did her best with contacting a tow (since we had no service the national park ranger paged the post which then contacted liz) and with refunding immediately and told us we could stay with her dad who lived near the dealership for the night it still took days to hit my bank account which left me finding a hotel/ transportation short until the full $1258 was refunded (including deposit). We left flying out of seattle still upset and feeling like a spent a lot of money on not a great experience overall!
The van was exactly as described. The bed was a very comfortable memory foam mattress, and the amenities included were perfect for the backpacking / vanning trip I did through Canada. Lizzy was incredibly responsive throughout the entire trip. Pickup and dropoff was very easy. I will absolutely be using this van again for future adventures.