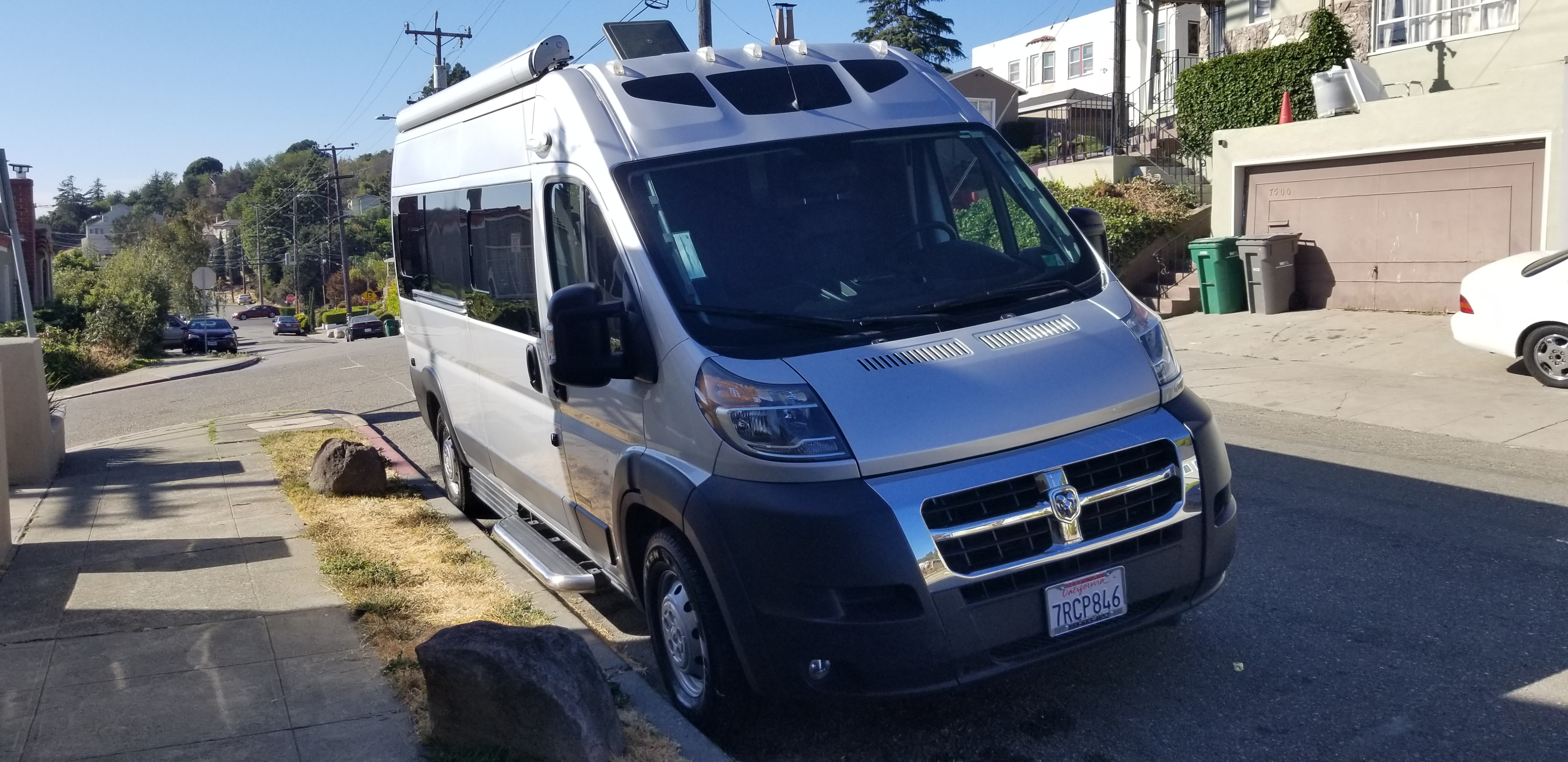 4.9
Outdoorsy member
Host since October 2018
---
---
100% response rate
Typically responds in less than 6 hours
About Christian Robsahm
Hi. My name is Christian. I have 2 wonderful Siberian Huskies and love to take my RV to music festivals. In between the festivals I enjoy renting my RV to the awesome people looking for them via outdoorsy :D
4.9
Outdoorsy member
Host since October 2018
---
---
100% response rate
Typically responds in less than 6 hours
---
Memories made on trips with Christian Robsahm's RVs
---
2016 Ram Roadtrek drives great and gets about 17-19 MPG in cruise control under 70 mph. The cabin is well appointed with holds in 5 cabinets for apparel and gear. The bathroom is small for a normal person, so take that into consideration if you are tall or large. The black water tank is small (9.8 gal), so be prepared to dump frequently. Two issues: the thermostat is not intuitive; the cruise control is wonky. The thermostat should be set first with the fan control, then with the Cool or Heat temp limits. I suggest downloading the owner's manual for best instructions. The cruise control operates like a 3rd party add-on. When you activate it, you have to move the lever up or down for the speed limit to start up. Overall this is a nice van if you want to just do a 4 day trip; you have some access to hookups along the way; and you can balance the mileage economy with small quarters. You should ask to see the operator's guide before considering, if you are not an active RV type of person.
Great experience, perfect van for your trips, everything worked out as planned and Christian was responsive and helpful with all our questions.
Christian Robsahm canceled the booking 6 days before departure. This is an automated posting.
Christian and his RV helped me have an awesome solo trip. The RV was everything advertised and more. It was comfortable, easily drivable, and reliable. I was completely new to RV life and Christian gave me a thorough walkthrough of how everything worked. I didn't have any issues with the van and was able to boondock comfortably for 3 days.
This RV is easy to drive and maneuver. This came in handy when we stayed at a beautiful campsite in Big Sur with steep, narrow roads. All the systems - solar power, water, heater, stove, fridge, toilet - worked very well and the RV was easy to clean and return. Christian gave a brief and clear overview of how to use the RV and was cool about resolving minor issues with Outdoorsy like their failure to send me a contract to sign and their error in the return date, to make our trip smooth and easy. The propane heater is a bit loud, so it might wake you if you have the furnace on at night. Also, you might want to bring a mattress topper if the tufted cushions of the bed might bother you.
Our family rented Christian's van for a 3 week road trip. The van was perfect for two adults and one small child. We had no issues along the way and when we had any questions, Christian was quick to respond. I would highly recommend renting this vehicle for your trip. We are already looking forward to renting it for our next vacation!
We were eager to take a trip with an RV during this time of the pandemic. We wanted something that was all inclusive so we wouldn't have to use public restrooms or facilities. When we picked up the RV, Christian told us we would need to fill up the propane because the gage doesn't work and he didn't have time to fill it up between rentals. He then asked us to replace a part on the water hose and told us he would reimburse us for these costs, which he did. Since this was our first RV experience we were told to ask about the blue chemical for the toilet. He told us it wasn't necessary. Well, we found out on the 3rd day that it was necessary. Thankfully there was one blue tablet under the sink. The dishes were metal camping type dishware. No problem, except the mugs were chipped and rusted, so basically not able to drink out of them. The saute pans were so disgusting that I couldn't cook in them. They were also not able to be cleaned. I mentioned all of these things to Christian and no response. We left the RV cleaner than when we picked it up. I would recommend the vehicle, but I would not recommend renting from Christian because of his lack of communication regarding issues with his RV.
2 Photos submitted by Tina M.
We had a great experience with this Roadtrek. It carried us all the way up the Eastern Sierra and down the coast in May of 2019. Really nice interior, lots of storage, reasonable gas mileage for a vehicle of this size. Plenty of room for two even on some stormy days mostly spent inside. Christian was very responsive and helpful when we texted him with questions! Can't reccomend enough!
4 Photos submitted by Megan L.
Suzanne N.
5•February 2020
We thoroughly enjoyed our trip in the RoadTrek. Easy to drive, park, and set up. Christian was a great host - very responsive and helpful.
Christian was a great owner to rent from. He was flexible in working out the pick up and drop off plans. Explained how to use the camper van clearly and gave good advice on the vehicle. The vehicle was clean and well cared for. We will definitely rent his Roadtrek again.
Christian was a great host, so easy to work with, and so flexible, and this was an excellent van. We had an amazing trip to Joshua Tree and Death Valley.
Christian is very nice and laid back. Picking up his RV was relatively simple. There were a number of problems with the rig, however, in terms of maintenance, the most frustrating being the heating system's inability to work for more than a couple of hours when boondocking. Apparently, the batteries are unable to store enough electricity to simply run a propane heater fan. This RV has a great floor plan, but not worth $250 + fees per night. A partial refund would have been appreciated.
My Husband and I had the best 11 day trip across California and Oregon in Christian's Roadtrek. As this was our first RV experience, we wanted to hire something that had all the amenities, but wasn't huge on the road and this well and truely ticked all the boxes. It was very easy to use and felt comfortable to drive on even the most narrow winding roads. Christian was so helpful and friendly, explaining everything we needed to know on pickup. And was available during our whole trip for any questions we had or for anything that had come up.
We had such a memorable trip and highly recommend this awesome RV to everyone!
This was our first RV experience! Christian did a thorough review of all the systems but even so I had to contact him with questions during the trip. Next time I will take photos to remind me. Christian was easy to reach and helpful. His RV was well equipped and drove like a dream. We used a 3 inch memory foam topper on the queen size bed, which made it very comfy. We had water and electric at our site so only boon docked for one night, easily supported by the solar panel. The propane heater kept us warm in the chilly mornings, we never needed the AC. We had tons of space in the fridge and storage bins for a 5 day trip, and Christian provided good camp chairs, plates, cups, cutlery, paper towels and toilet paper. I would recommend Christian's RV for a great trip!
We very much enjoyed our use of Christian's Roadtrek Dodge van. It worked very well, was easy to drive and was easy to park in urban areas as well as camp sites. We drove it from Oakland Ca to Las Cruses in New Mexico camping all the way. Christian was very easy to deal with and it was so convenient that he lives 10 minutes from us. He was available to answer all our questions including while we were on the trip itself. The van is in excellent condition. We got 15.8 mpg but then we were in the mountains a lot of the time. We were able to easily download the van's operating manual that come in handy at times given that this was our first time with a camper van. It is fully equipped from kitchen utensils, dishes etc, camping chairs, patio mats, cleaning supplies and all the hoses and attachments. You will be happy with your rental from Christian.
1 Photo submitted by Dale R.