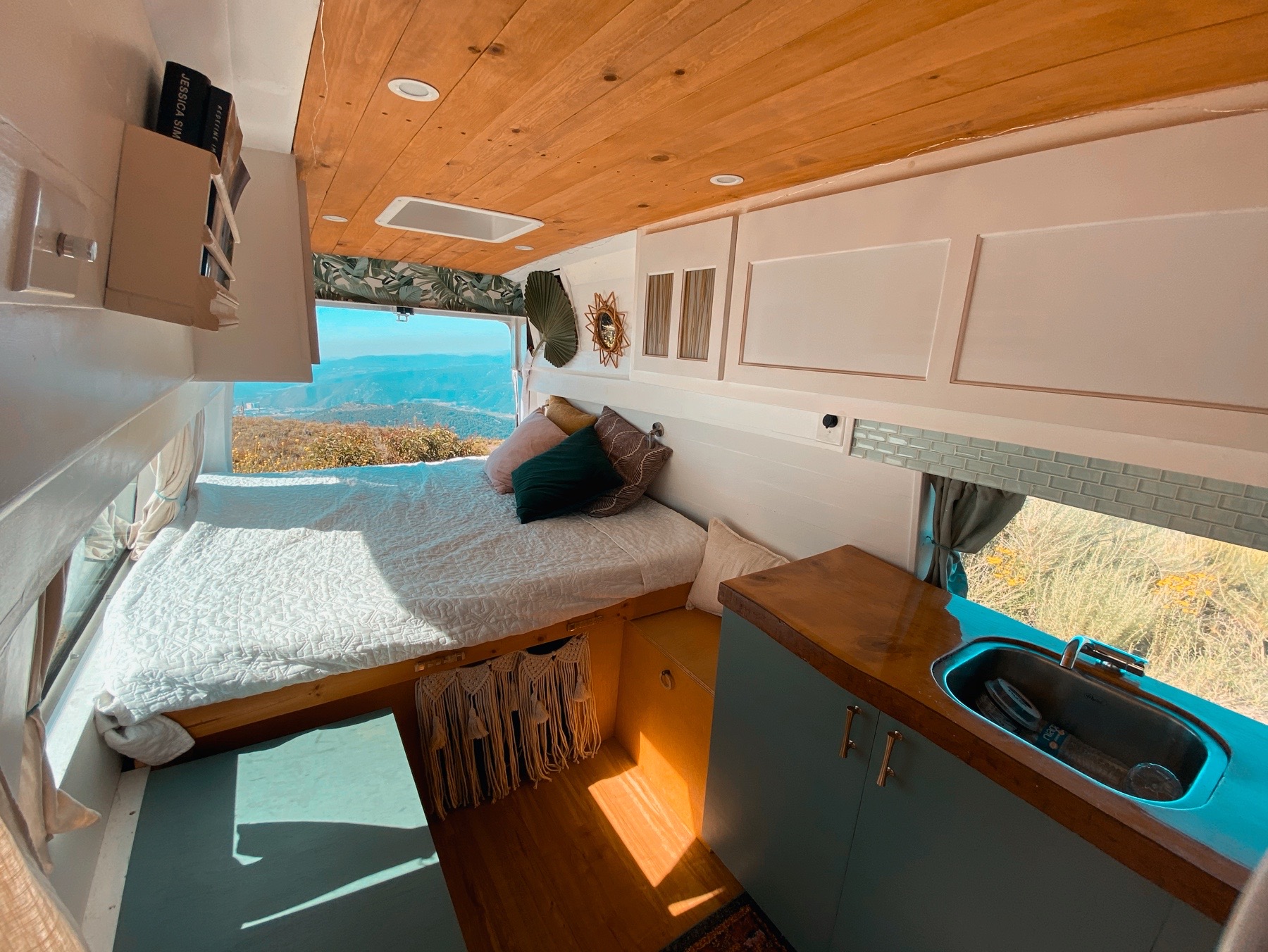 5
Outdoorsy member
Host since February 2020
---
---
100% response rate
Typically responds in less than 12 hours
About Jon & Stacey Schneider
We are the Schneiders! Most days you can find us chasing our passions, building something new, or hanging with our dog Bo in San Diego by the beach! We discovered early in our relationship that we both have a passion for traveling and a thirst for adventure. After trekking through dozens of trails and road tripping together we knew that we'd always want to live an experience-filled life with each other. After we got together, we talked about how we can create an intentional life- with the freedom to explore. We knew life would get busy and we'd always want a way to balance work and play. We bought our van GIA knowing that she would always allow us to always pick up and go. No matter how busy life gets. The original owners spent a whole year making her the perfect home away from home. She provides comfort, convenience, a loving sacred ambiance, and several unique upgrades you didn't even know you needed! With GIA we have traveled to so many different National Parks, cross country, and all over California. Every time we do a trip we learn something new about ourselves and the life we want to live. GIA has a way of grounding us, showing us what truly matters and what we can easily live without. Because Gia has changed our lives we wanted to provide the opportunity for you to experience the thrill of the open road too. We hope she will give you beautiful memories and the adventures of a lifetime you deserve. Book now and break away. We can't wait to hear your stories. - Jon, Stacey & Bo
5
Outdoorsy member
Host since February 2020
---
---
100% response rate
Typically responds in less than 12 hours
---
Memories made on trips with Jon & Stacey Schneider's RVs
---
Danielle S.
5•November 2021
We had so much fun driving Gia out to the desert! No issues what so ever, had a great weekend. Van had everything we needed!
6 Photos submitted by Danielle S.
Gia was incredible! It was everything I could have wanted. She got me from San Diego all the way to Big Sur and back with no problems!
3 Photos submitted by Conner C.
The Gia van was great. It looks exactly like in the pictures. We had a great stay. It's like a small airbnb. The hosts were very friendly, and provided all the needed information and made the experience very smooth. Would definitely recommend!
The owners could not have been nicer, and the van was clean and had so many things stocked that I wouldn't have expected. Very well designed and comfortable.
Perfect van for what I needed! Just a quick week across California. Ran great, wasn't as bad with gas as I was expecting, SUPER comfy bed inside. Highly recommend for a fun vacation away
Jon & Stacey's answer
Thanks Brianna! We're glad you had a fun trip 😀
1 Photo submitted by Brianna L.
I had Gia for four weeks and she was the perfect companion! The van is ideal for a couple or solo traveler, and - literally - has everything you need for a weekend getaway or a month long road trip. She handled beautifully and fits into 99% of tent campsites. No hooks ups needed. Christina and Kenny were incredibly responsive before and during the trip. I highly recommend this van and would rent again. Thanks again for such an unforgettable experience!
5 Photos submitted by Tara F.
We had a wonderful time with Gia! This was our first van trip. Kenny and Christina are great hosts and gave a thorough overview of everything we needed to know before we left. Gia is an older car, but she held up great on our trip to Yosemite. The attention to detail in the interior of the van is a nice touch. We had a trip of a lifetime!
5 Photos submitted by Rebecca R.
We had an absolute blast in Christina and Kenny's awesome van, Gia. Gia's customization is such that it doesn't feel cookie-cutter at all and, instead, has tons of character. The attention to detail, little intricacies that make things work optimally, etc. You really can feel the love Christina and Kenny put into the van. We drove up Pacific Coast Highway into Malibu for one night and then back down to San Onofre for two nights and had no issues whatsoever. 10/10 would rent Gia again and have already recommended to a bunch of friends!
We loved our trip to Joshua Tree in this wonderful and cute van! I am 5'4 and felt super comfortable inside the van. My friend is 6'0 and had to stoop while inside.
All in all the van was perfect. I felt safe driving it and was delighted by all the cabinets and functional touches. Loved the party lights too!
2 Photos submitted by Paula V.
Relaxing weekend trip to Borrego Springs! Kenny and Christine were wonderful and accommodating!
3 Photos submitted by Kathy P.
Chelsea E.
5•February 2021
This was by far the most wonderful experience ever. The van is super cute and has that total boho vibe (which I personally love) as well as all the amazing features most RV's have. This was the perfect vehicle to take on our trip to Sedona. The owners of GIA also helped make this trip a success by being so flexible with time and was always offering to help it any way to make our trip perfect. Thank you so much, again! Until next time!
We had so much fun experiencing the campervan life with Gia! Gia has taken us to Sequoia and Tahoe. It was nice to be able to take a little break and be outside, surrounded by nature. My boyfriend and I went on our first, long road trip with our two dogs and Gia had everything we needed ☺️ The bed kept us warm at night and was able to fit the four of us comfortably. Thank you Christina and Kenny for providing us a cozy home away from home! 💕
9 Photos submitted by Nia G.
Jacqueline L.
5•December 2020
We rented the van for a week and cruised up to San Onofre to hang out on the beach. Gia (the van) provided a nice cozy spot to warm up in after a day of surfing. At night, temps got down to the low 40s. We brought sleeping bags and a down comforter, but the van is so well insulated that we only needed to use the comforter. The owners were super accommodating when we asked for an earlier pick-up and return time. They're awesome, and they even gave an open invitation for us to contact them if we wanted to get advice on our own future van build. Many many thanks to Kenny and Christina and the thoughtfulness and hard work they put into creating GIA.
Jon & Stacey's answer
Thank you so much Jacqueline! We are so glad you had fun with Gia over the holidays. 😀
3 Photos submitted by Jacqueline L.
Caroline L.
5•December 2020
We had the BEST time for our first van experience. Kenny and Christina were so helpful from day one. They answered all of our questions before and during the trip, which really helped us feel like we could make the most of the experience. The van herself, Gia, has set our standards SO high for future vans!! Everything about the van is so well thought-out and we really felt like it became our home away from home. One night we camped in Sequoia and temps dropped very low- we still stayed cozy and warm with our sleeping bags and comforter! We loved being able to get up early in the morning and just go. 15/10 would book again. Also, our dog Gus LOVED it!
10 Photos submitted by Caroline L.
Rebecca W.
5•December 2020
Christina and Kenny were absolutely incredible to work with. Their beautiful van (Gia) was a dream to stay in and we are already looking forward to renting with them again. If you're thinking about it... just do it.
Jon & Stacey's answer
Thank you! We're so glad you had a great trip 😃