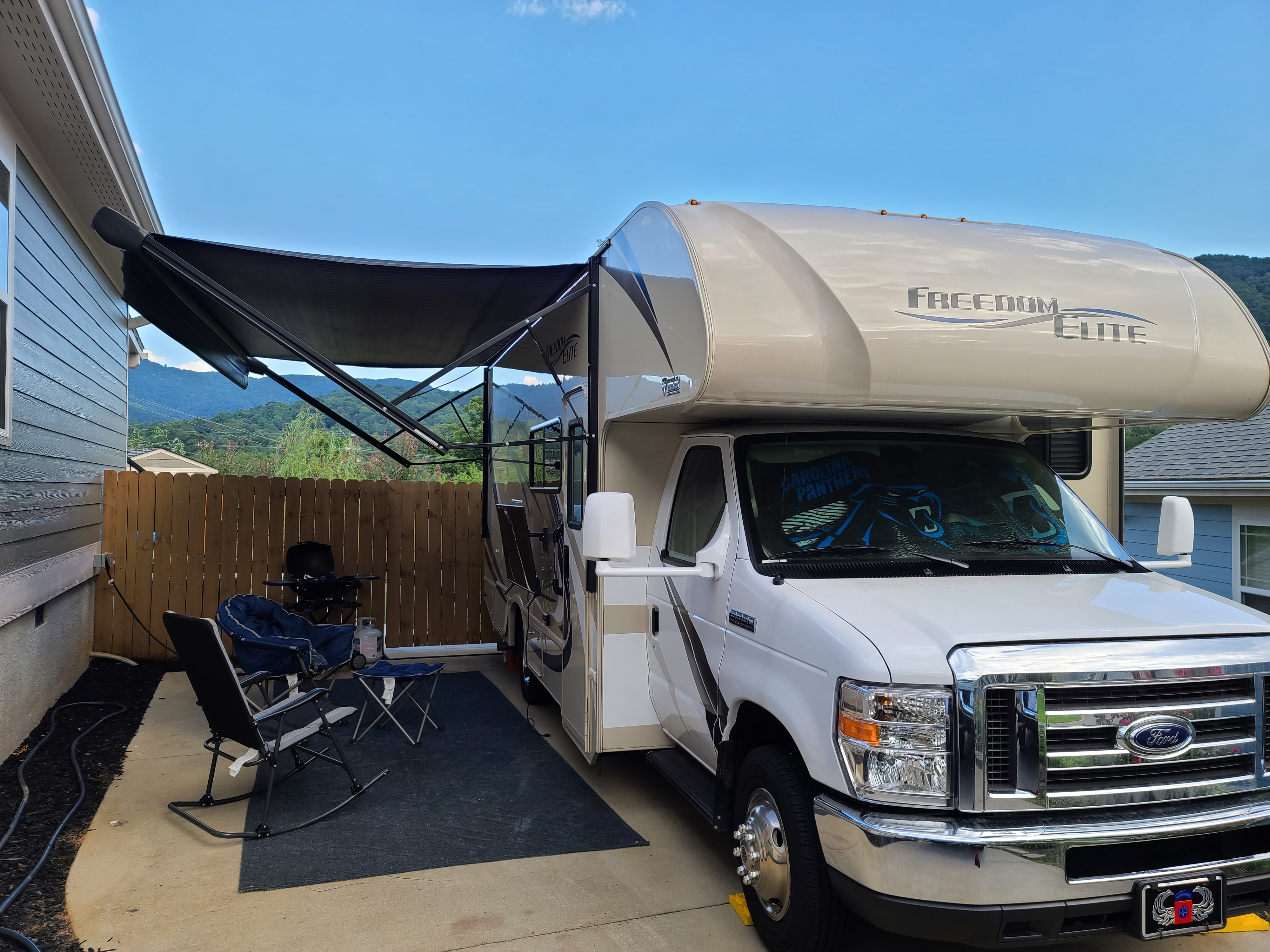 5
---
---
0% response rate
Typically responds in less than an hour
About Michelle and Eddie BROWN
We wanted to share our love for camping and traveling for those that want to experience the same kind of adventures.
5
---
---
0% response rate
Typically responds in less than an hour
---
Memories made on trips with Michelle and Eddie BROWN's RVs
---
For our daughters 18th birthday she chose to have the RV experience. It was one of the best experience we had as a family even though it was our first time in a camper. Eddie was a great teacher and made this so easy for us. Eddie and Michelle went beyond hosting us and even baked my daughter's favorite dessert ( browny) and made us feel like family. The camper was so cozy and very clean. Well equipped with all kitchen necessary for the trip. Can't wait for our next Tiny adventure! Blessings Eddie and Michelle 😊
Michelle and Eddie 's answer
Thank you so much David! You and your family are so lovely and we are so glad you had a great time. Not only did you get to see a bear, but twice. We are here for you when you are ready for your next adventure and I will for sure, have another brownie. Bless your family and we hope you have a wonderful holiday season.
Eddie & Michelle
5 Photos submitted by David R.
Eddie and Michelle are so nice and kind, they prepared almost everything we need and give a lot guidance. We had a great trip. We definitely recommend them and believe we will come back again .
Michelle and Eddie 's answer
Jeremy, thank you so much for renting from Tiny Adventures. Jeremy and his family took wonderful care of our RV and kept us updated regularly. We look forward to hearing from you in the future for another RV adventure.
Eddie and Michelle were great. First time renting an RV and it was as nice and clean as the best hotel I could have picked on the trip and still not had my choice of scenery to wake up in. Eddie took his time and showed how everything worked for me (a newbie to RV use) and made sure I was comfortable with all the buttons, switches, and connections.
Meanwhile Michelle made my wife feel at home and even came up with some extra pillows when we realized I had left mine at home.
Lots of thought went into outfitting the RV that I'd never considered. Lots of rugs (inside and outside) to keep down on tracking in the Fall leaves and pine needles. More than enough pads to level out the RV (needed that for the rough country where we stayed.) Everything on the RV worked great. Down in Cataloochee, we were totally dependent on Tiny's features to keep us, warm and fed and it did just that.
We can't wait for another opportunity for RV travel and plan on calling on Tiny Adventures to take care of the us.
Michelle and Eddie 's answer
Absolutely loved Horace and his wife. Great people who took fabulous care of our camper. Jed also. We would welcome them back anytime they want to go hiking again. Eddie and Michelle
Eddie and Michelle have been awesome since our first communication! So helpful and accommodating….. really good folks.
'Tiny' is their RV rental—- named for a precious dog—- was perfect for our trip to the beach. EZ to drive, all the amenities and then some. The BEST service that was indispensable was their step by step videos of the RV operation and amenity explanations—- electricity hookup, grey/black water system, etc. Invaluable.
First class service all the way!
Michelle and Eddie 's answer
Pamela and Nancy are a hoot! Ladies that we admire and are so fun to be with. We would love to have been stow aways with them on their trip. Kind, sweet and generous are the ladies we know and we are so grateful to have the opportunity to meet them. Dog lovers, know dog lovers and that's what WE all are! Thank You so much for letting us and Tiny be part of your Adventure.
This was my first rv experience. My trip couldn't have been any better. Tiny has been perfectly maintained and was immaculate.Michelle and Eddie were both so welcoming, including a gift basket for our trip. They spent two hours with us to demonstrate operations. They were available at any time during our trip to answer questions that came up, and we especially appreciated that given this was our first trip. I would recommend renting from the Browns and will plan new trips through them.
Michelle and Eddie 's answer
Mary Ann and Kay, you are two very sweet lovely ladies and it was such a delight to meet you. You both were so attentive in learning the process to be prepared for your adventure. The pictures and stories from your trip were amazing and we are so glad you got to see family and meet new friends. We look forward to meeting and talking to you again soon. Thank You for your business, kindness and new friendship.
My wife and I decided that we would spend our 40th anniversary in a RV rental through Outdoorsy. We loved camping when our children were young and wanted to see if this may be a way to see the Grand Canyon one day. We had always wanted to visit the Biltmore Mansion, so this seemed like a perfect way to do both. We looked for rentals near Ashville and were extremely fortunate to find Ed and Michelle and their C-Class RV, "Tiny Adventures" We could not have found more accommodating and helpful hosts. Ed and Michelle helped plan our trip from choice of campground to helping us arrange an incredible trip to the Biltmore. We not only had a great vacation, but we have made wonderful friends in Ed and Michelle. The camper was very clean and perfectly stocked. Ed and Michelle walked us through the entire process with Outdoorsy, the campground and The Biltmore. If you are considering renting an RV in the Ashville, NC area you will not be at all disappointed in working with Ed and Michelle. I only wish we could give more than 5 stars!
Eddie and Michelle are very patient, friendly and really went out of their way to make us feel welcome. They took the time to explain and answer questions, were always readily available, and the RV was spotless. Tiny has every amenity you could want - your home away from home! We will definitely rent from Eddie and Michelle again!
Michelle and Eddie 's answer
Ben and Amy. It was a pleasure to meet you and your family. We are happy that you were able to see family and do a new adventure. Truly lovely ladies and the card is priceless. The gift of BBQ was outstanding and your craft is something that we will always remember. Hope to see you soon when your family is ready for your next adventure. Thank you so much, Eddie & Michelle Brown.
As first time RV drivers we had a lot of questions coming into the experience of renting an RV from Michelle and Eddie. They went above and beyond to teach us, guide us and ensure we felt comfortable from the minute we met them. In addition, they were available for questions throughout the weeks we rented. They were warm, friendly, welcoming and we enjoyed getting to know them. The RV was fully equipped, very comfortable, and we had a great trip with our entire family.
Michelle and Eddie 's answer
Jay & Aditi,
Thank you so much for letting us be a part of your adventure. We are so happy that you and your family had a wonderful time. We also hope to have the opportunity to meet again when we come to see you both perform your beautiful music. Please contact us when you are ready for your next Tiny Adventure and we will be here for you.
Eddie & Michelle
Eddie and Michelle definitely put the "WOW" factor into renting an RV! From taking the time prior to the trip to show us how to drive, set up and break down the RV, to being available when we had questions along the way. The RV was as clean as could be and smelt as if it was brand new. You can not go wrong renting from Eddie and Michelle, they do a fantastic job in running their RV rental business.
Michelle and Eddie 's answer
We enjoyed meeting you and Dave. Glad yall enjoyed your trip and we hope you find your rv your looking for to continue your adventures.
Hope to hear from you again soon.
Michelle and Eddie 's answer
Ok, still wiping the tears away. It was a pleasure to meet you and you're family. We're so glad we could help. Thank you for your kind words as Michelle and I try so hard to create the best experience. Hope to see yall again soon.
Eddie and Michelle
2 Photos submitted by Sarah D.
Eddie and Michelle were the best! Convenient access off I-40 near Asheville. Detailed walk thru to show us how everything worked. The camper was just the right size for the two of us (though there is room for kids too). They provided all the necessities which made it easy. Super responsive to any and all questions before, during and after the rental. Great folks! Will rent from them again;)
Michelle and Eddie 's answer
Susan, Thank You for your kind words. We do our best at providing a wonderful adventure. When you book your next trip, as promised we'll ad the free night. Hope to see yall again soon.
Eddie and Michelle
Michelle and Eddie are just amazing. From the beginning of the process until the very last moment they were always on top of everything. Their motorhome is impeccable and super easy to drive. They loaned us lots of extras for our adventure, from a portable grill to a comfortable outside sofa chair. They were waiting for us with little surprises for our kids (chalk and cars!) and took a lot of time to explain every detail. We definitely will rent Tiny Adventures again next year. THANKS guys!
Michelle and Eddie 's answer
Thank you for your kind words. You and your family made it easy. We enjoyed the laughs, the questions and your pics.
Hope to see yall again in the future
5 Photos submitted by Gabriel C.
The owners were very patient with me and showed me all I needed to know about setting up and breaking down the RV. The "cheat sheet" was very helpful and as a first time "RV er" was quite fun to learn. The RV was very clean and the hosts were very helpful in taking calls for last minute details and questions I had.
My little Pug, Hailey and I had a wonderful time. We went to 3 different campsite locations and met some really interesting people. We visited friends we hadn't seen in a long time and that was really nice.
The RV was a pleasure to drive and all in all the trip was great fun and I would do it again!
Michelle and Eddie 's answer
Cheryl, Thank you for your kind words. We are always look for ways to improve the camping experience. It was a pleasure meeting you and Hailey. We are so glad you had a wonderful time and look forward to hearing from you in the future.
Eddie and Michelle
Tiny Adventures