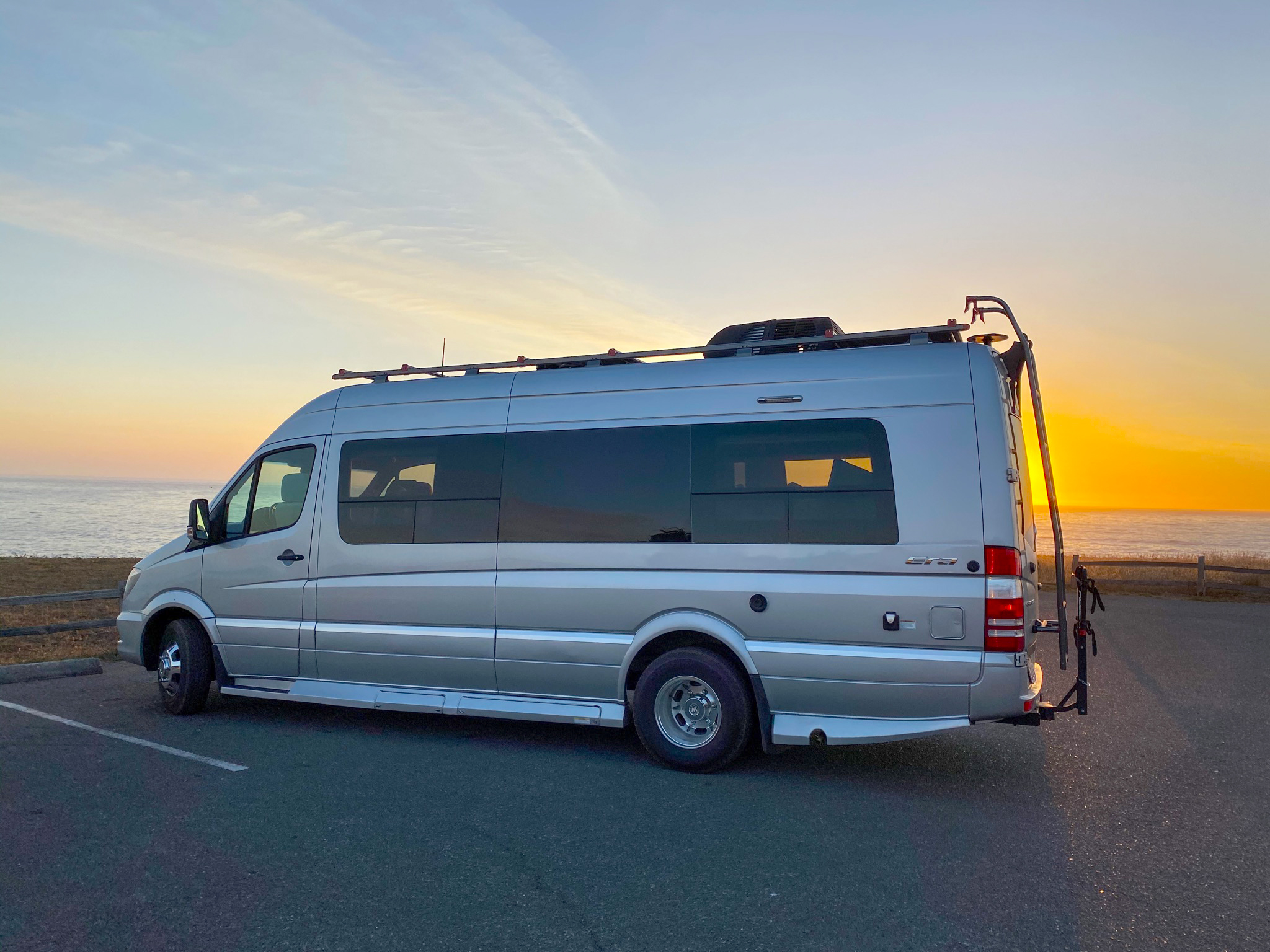 5
Outdoorsy member
Host since September 2020
---
---
100% response rate
Typically responds in less than 6 hours
About JANET BIRCH DONNA HAIR
HI from beautiful Malibu! This is the TS 'Twisted Sisters' van - we are actually twins but don't tell anyone. In the concert touring industry for about 40 years until.....pandemic! We were anxious and restless and purchased this amazing van and so happy now to share it with you. Please when booking let us know what your plans are and how many people will be on your adventure, so we can accommodate you properly. Thanks for looking -
5
Outdoorsy member
Host since September 2020
---
---
100% response rate
Typically responds in less than 6 hours
---
Memories made on trips with JANET BIRCH DONNA HAIR's RVs
---
Eleonore T.
5•December 2022
Janet and Donna were fantastic to work with and explained everything to us about the vehicles. They had all the little things aboard that you might forget: flashlights, chairs, a folding table, and even spices. They even sent us videos of how to operate the different on-board equipment. When we had trouble getting the heater to work, they were available to help troubleshoot.
1 Photo submitted by J G.
Janet and Donna were excellent hosts and their rig was a pleasure. They took the time in advance to explain everything we needed to know in great detail and were available 24/7 for any 'on the road' questions. Drove from LA to the Grand Canyon with my two kids, aged 11 and 13 and the campervan was perfect for the three of us. We had everything we needed in one contained mobile unit (don't think I can ever go back to tent camping!). Please be kind to these ladies and return the rig as clean and pristine as you were given it...
1 Photo submitted by Daniel D.
Jonathan S.
5•September 2021
My wife, 3 year old, 6 week old, and myself had a great time borrowing this excellent van. There is ample sleeping space in the back for two adults and a small child, and our 3 year old loved sleeping on the folded down "jump seat". This vehicle is nice, as the jump seat allows space for a child and infant car seat, something hard to find in most vans. (The seats would be perpendicular to the direction of travel, but can be secured well in place). We borrowed the vehicle for about a week, which required careful management of our water, propane, and waste, but if you were borrowing for a weekend, you would have no real limitations for being off the grid. The vehicle handles well, and had enough power to tackle the steep ascents and descents around Yosemite Valley. Janet and Donna had a very helpful run-through of the vehicle before the trip, which helped us gain comfort with the vehicle.
Janet and Donna were unbelievable hosts. Our standards are pretty high yet we weren't disappointed at all. The truck was in perfect shape, well maintained and ready for any and all adventures. We were 3 adults travelling and it was a perfect fit for sleeping and on the move. Off the grid was a new experience for us yet the equipment in the Sprinter gave us everything we needed. City driving was easy as the truck is very nimble and easy to manage with all of the bells and whistles that come with a Mercedes product. Our Family trip was one that we will always remember. I HIGHLY recommend Janet and Donna and we will certainly be back again.
5 Photos submitted by Scott J.
This experience was everything we expected and more! Janet and Donna did a great job in putting together everything and anything one would need to have a great camping and RV experience. It was an easy experience from meeting with them to review how to use the van, to loading and unloading and returning. They were even as thoughtful to include a smores making kit which we put to good use! We camped in different campsites without hookups, and this van made the experience super easy to pull in and start camping without much of a setup. They had a portable grill, table and chairs which was convenient to use as well. This was best vans I saw on Outdoorsy for our needs. I'm glad I booked this trip. Thanks Janet and Donna!
JANET BIRCH 's answer
Thank you Clement - so very nice to meet you and Michelle - best of luck to both of you - and again - thank you so much for taking great care of the van - we hope to see you again!

I leased the Twisted Sister Sprinter Van for two weeks to be completely off grid, everything preformed perfectly, having the solar panels were a plus, and I did have the generator when I needed it, the van itself preformed great though the 118 degree temperatures on the highway. This unit is perfect for one person, great for two people and good for three,, the sisters were absolutely awesome to work with and only a phone call away when I had a question,, not to worry, the sisters will go through everything with you , bumper to bumper and show you how to run everything!! Looking for a groovy high end Sprinter Van ?? Look no further!!! I'll be leasing this one again and again
JANET BIRCH 's answer
Thanks Jerry - you were a super super renter - and so happy to have met you - we will continue! You took great great care of the van - so so happy - thanks again!

6 Photos submitted by Jerry B.
Can you spend 10 days in a van? Absolutely Yes! Janet and Donna were AMAZING! Thank You both for this fantastic vacation experience. Just spent 10 days in Yosemite, Kings Canyon and Sequoias. This was the most "unplugged" and "disconnected" we've been in years. The van was easy to drive and we literally had every amenity imaginable. Countless comments and inquiries about "our rig". It was truly incredible! This was exactly what the doctor ordered. Rest, Relaxation and a huge push of the Reset button. We highly recommend the Twisted Sisters to anyone looking to get out and away from "it all". They not only met, but exceeded all of our expectations. Thank You Again
JANET BIRCH 's answer
Hi Richard and Holly - to our awesome campers!!! we love that you were off grid and had absolutely no problem!!! Yay! and thank you thank you for taking such amazing care of the van - welcome back anytime! Thanks!!!
5 Photos submitted by Richard N.
Beautiful van with everything you need! It drives extremely well, most times I forgot we were in such a large vehicle. Everything works as you'd expect and the owners do a phenomenal job walking you through everything and being quick to respond to any questions or problems you have during your journey. Would absolutely rent again!
The RV was wonderful it was in pristine condition. It's wrong Mercedes. The best part was that it was totally boring outfitted with everything that one with me four and you from propane powered fire ring two extra blankets sheets. The owners Janet and Donna were wonderful. Whenever I have a question I said the pool is the requested in they walked me through everything .
We had a great time and the van was clean and had everything we needed. Janet was always available for any quick questions.
The Sprinter was very comfortable. I took my family to the Grand Canyon and Sedona, AZ. Nights were cold, reaching the 20s in grand canyon. However, the furnace in the sprinter went beyond my expectations to keep us warm. No problem. It had everything we needed.
1 Photo submitted by scott E.
We had a great time with the RV. It's like having a home away from home. We love the electricity, hot water, gas stove, bathroom, kitchen, bed, sofa bed, turnable driver/passenger chairs, awning, solar power, plus many other amenities, and the fact that it is very easy to drive and park. Janet and Donna were very friendly and helpful giving you a tour of the RV and specific instructions about usage. The RV is very fuel efficient (diesel engine); we spent less than $180 for driving from Malibu
all the way to Santa Cruz, CA and back with many stops. We already plan another trip with this RV. Thank you so much Janet and Donna for your passion and hospitality!!!
2 Photos submitted by Darren L.