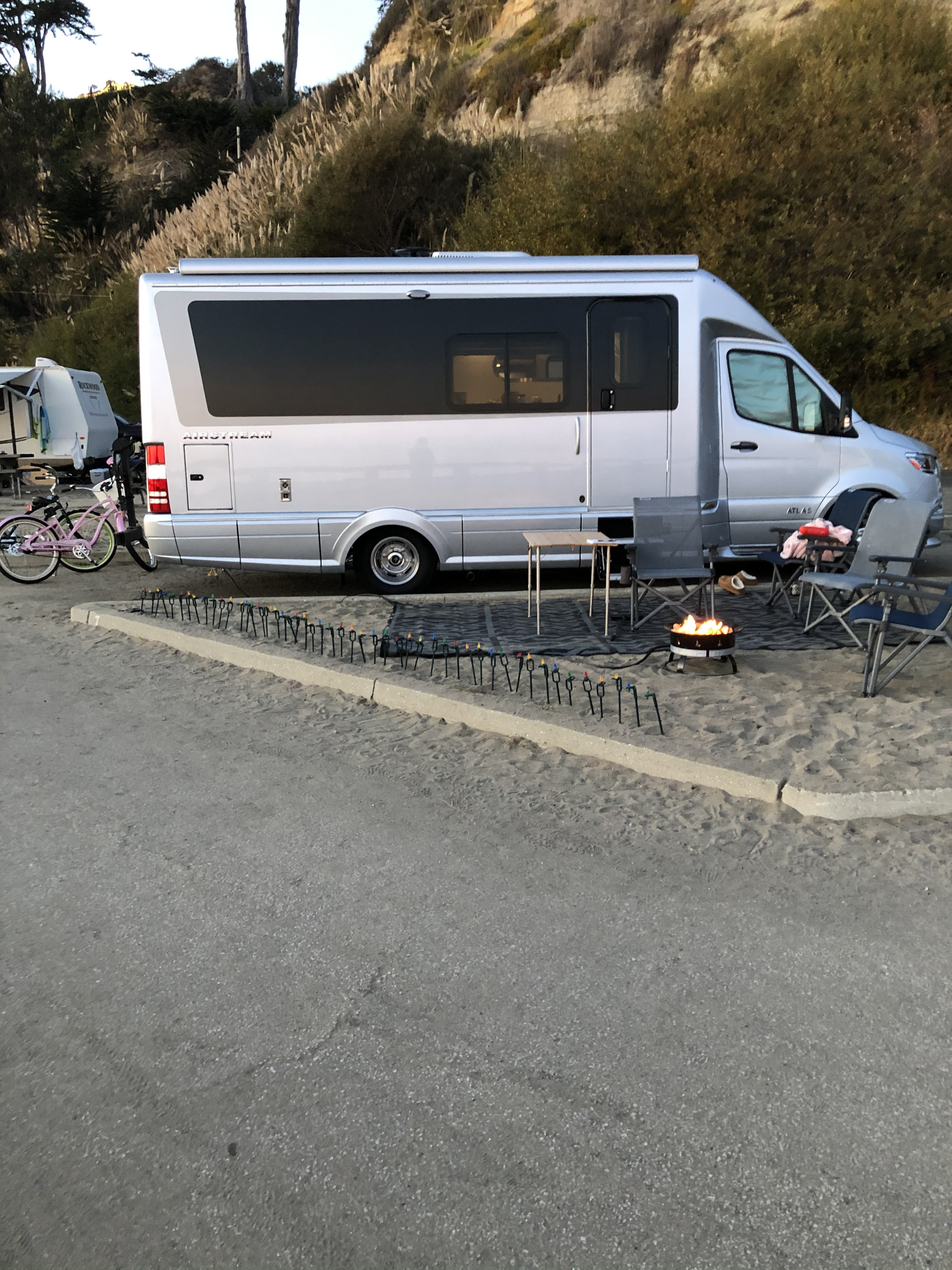 5
Outdoorsy member
Host since October 2020
---
---
100% response rate
Typically responds within an hour
About Shelly and Mark Morales
MySuiteRV For years we vacationed in the Pacific Islands staying in some of the best hotels. As the face of travel changed this year, and we explored different ideas for vacationing, we determined that it was time to see more of the west coast. After researching many options we knew that an Airstream Atlas RV was the way to go and so we started our company, MySuiteRV. We are now ready to share our first RV with you. We have modeled the experience we are offering after one we would have received if we were staying in a suite in a hotel. Basically, California Sunshine, as we have named it, comes with everything you could possibly need for your trip and you will find it to be top of the line in luxury. There are so many amazing things to see and experience on the west coast so book now before the dates fill up. Feel free to reach out if you have any questions! Have a beautiful day and stay safe. Mark and Shelly
5
Outdoorsy member
Host since October 2020
---
---
100% response rate
Typically responds within an hour
---
Memories made on trips with Shelly and Mark Morales's RVs
---
We had an amazing trip with this RV, it is in perfect working order and well-equipped. What made the overall trip incredible was the support and attention provided by the RV owners, they are very knowledgeable, caring, and with a good sense of humor to boot. We will be renting this RV again in 2023.
We had an amazing experience renting from Shelly and Mark. From start to finish everything was perfect! The communication was very quick and responsive, the orientation was thorough and professional, and the RV was in impeccable condition and equipped with everything we needed! Shelly and Mark are very nice people and we can't wait to rent from them again!
This airstream was a dream to drive, making the long stretches on the road a breeze. I'm an RV newbie, but Mark and Shelly made me feel immediately at ease. They walked me through the highlights before the start of our trip and were super responsive when we had questions. They've even included a detailed reference book in the event that I needed a refresher.

Deborah M.
5•September 2022
We took a trip up the coast to Oregon from Emerald Hills California over a period of eight days.
5 Photos submitted by Deborah M.
Shelly and Mark went above and beyond to provide a five-star experience. Shelly made sure we had all the amenities we needed, including little surprises like spices and Yeti mugs. All the accessories are clean and high-end.
Lawrence B.
5•February 2022
The Airstream Atlas is an unbelievable vehicle. Atlas is at a level of luxury that was at the highest level. Shelly and Mark did an unbelievable job of preparing the vehicle for our trip - the cleanliness, the stocking of the Atlas for our trip, taking the time to explain the operation, particularly since this was our first RV experience, removed much of the anxiety we might have been feeling. The overall experience was a 10+.
3 Photos submitted by Lawrence B.
We rented the Atlas and drove through Napa Valley and down the coast to LA. Not only was the Atlas easy to drive, it met all of my criteria for a glamping adventure. The fold down, king sized, murphy bed, the ultimate shower experience, tons of storage, and Shelly's high end dishes, cookware, and linens made our trip most unforgettable. We were able to contact them any time during our trip for clarifications as the coach has all of the bells and whistles that one could want. Thank you so much Mark and Shelly for trusting us with your Atlas for a week! -Kurt and Judy (Isaquah, WA)
Mark and Shelly are outstanding hosts. They gave us a complete walkthrough and explanation of how the RV works and we're always available for questions through texts or calls. The RV is completely stocked for anything you need. Would highly recommend My Suite RV!
Shelly and Mark gave us six star service and the Atlas was as amazing as we thought it would be. The RV is stocked with everything you need and some luxuries you don't but are exceptionally nice. It was showroom clean with linens that smelled so good. Everything was first class. I hope we get to have another adventure with Shelly and Mark's Atlas.
This trip was absolutely incredible. The vehicle itself is over-the-top amazing and easy to drive. My sister and I had never driven an RV or campervan before and had no problem. Honestly, we can't think of any way the trip could have possibly been better except for the fact that we wanted to stay longer! Shelly and Mark had every detail covered and answered any questions we had along the way.
Rig was extraordinary. Mark and Shelly were awesome owners. Most importantly was there attentiveness to making sure everything worked properly. We had a few minor equipment malfunctions, which occurs with anything with thousands of parts. Mark drove 4 hours each way immediately to provide service. Not once, but twice even though we could have continued on. As an former 18 month RV full timer, and given the popularity of RVing today and incredible wait times for service, having an owner who is a mechanic (was when younger) is the best insurance you can have for a carefree RV trip. I highly recommend the California Sunshine 2021 Airstream Atlas. Cheers, Louis
2 Photos submitted by Louis W.
RV'ing in California Sunshine doesn't get any better. This Airstream Atlas comes with all the gear you could possibly need, and driving the rig is as easy as any car. Our review wouldn't be complete without a shoutout to Shelley and Mark. They went above and beyond in every way to ensure we had the perfect week-long experience.
1 Photo submitted by Kimberlee S.
THE RITZ ON WHEELS! Man o man, worth every cent. Shelly and Mark are amazing! The rig is epic! If there was 100 stars to give, I would. In full transparency, I know Shelly professionally and that is sometimes a little risky because you don't want to burn a bridge. This bridge is now earthquake proof. I would def rent again and look forward to it!
2 Photos submitted by Christopher G.
Wow, what a fantastic vehicle and super hosts! From the moment we arrived to pick up the vehicle to well after we've returned, Shelly and Mark have made us feel so welcomed in their "home". They were incredibly thorough in their walkthrough, and the attention to details and amenities made our experience so much more enjoyable. Not only was their Atlas clean and spotless, it drives almost like a car! We rented the vehicle to take my 83-yr old dad (recovering from health issues) to Monterey, Carmel, Pebble Beach, and Santa Cruz and he had the most wonderful time. He cannot stop talking about how beautiful the vehicle was and how much fun he had in a long time. It was one of the best trips we've had. It really re-filled our soul with a sense of adventure and peace of mind in this crazy pandemic year+.
1 Photo submitted by Natasha T.
Helen Mirren has a scene toward the end of the film Gosford Park, she plays
the housekeeper Mrs. Wilson, where she talks about her gift...the gift of
anticipation. She knows they will be hungry, and food is ready. When they
are tired, and the bed is turned down. That scene came to mind upon
thinking about the seamless joy we experienced during our week driving
about California and how Shelly and Mark anticipated everything we needed.
Before the trip, they provided great tips where to stay and helpful
websites to help plan our adventure. During the trip, the rig had
everything one needs, and even things you didn't think you'd need.
Driving, the coach was quiet and comfortable. The slide-out provides
welcome room, and the murphy bed is a great, space design. We dry-camped
for half the trip in state parks, and we were fine...staying at RV parks
with hookups every other day. Shelly and Mark made it easy...thank you
both! During the trip, the rig had everything one needs, and even things you didn't think you'd need. Driving, the coach was quiet and comfortable. The slide-out provides welcome room, and the murphy bed is a great, space design. We dry-camped for half the trip in state parks, and we were fine...staying at RV parks with hook ups every other day. Shelly and Mark made it easy...thank you both
1 Photo submitted by Aimee & Greg P.
The ultimate glamping experience! Shelly and Mark are the perfect hosts, immediately available via phone and text to answer any of your "on the road" questions. Excellent pre-departure briefing... a 3 ring binder with their tips for the "road".... ipad with detailed instructions to take along ...and..all the extras (chairs, utensils, grill, linen, plates, cups, glasses, appliances) are of the line. All you need to bring along are clothes and food. Shelly and Mark have thought of everything you could need for a stress-free get away! 6+ stars🎉🥳.
1 Photo submitted by Howard H.