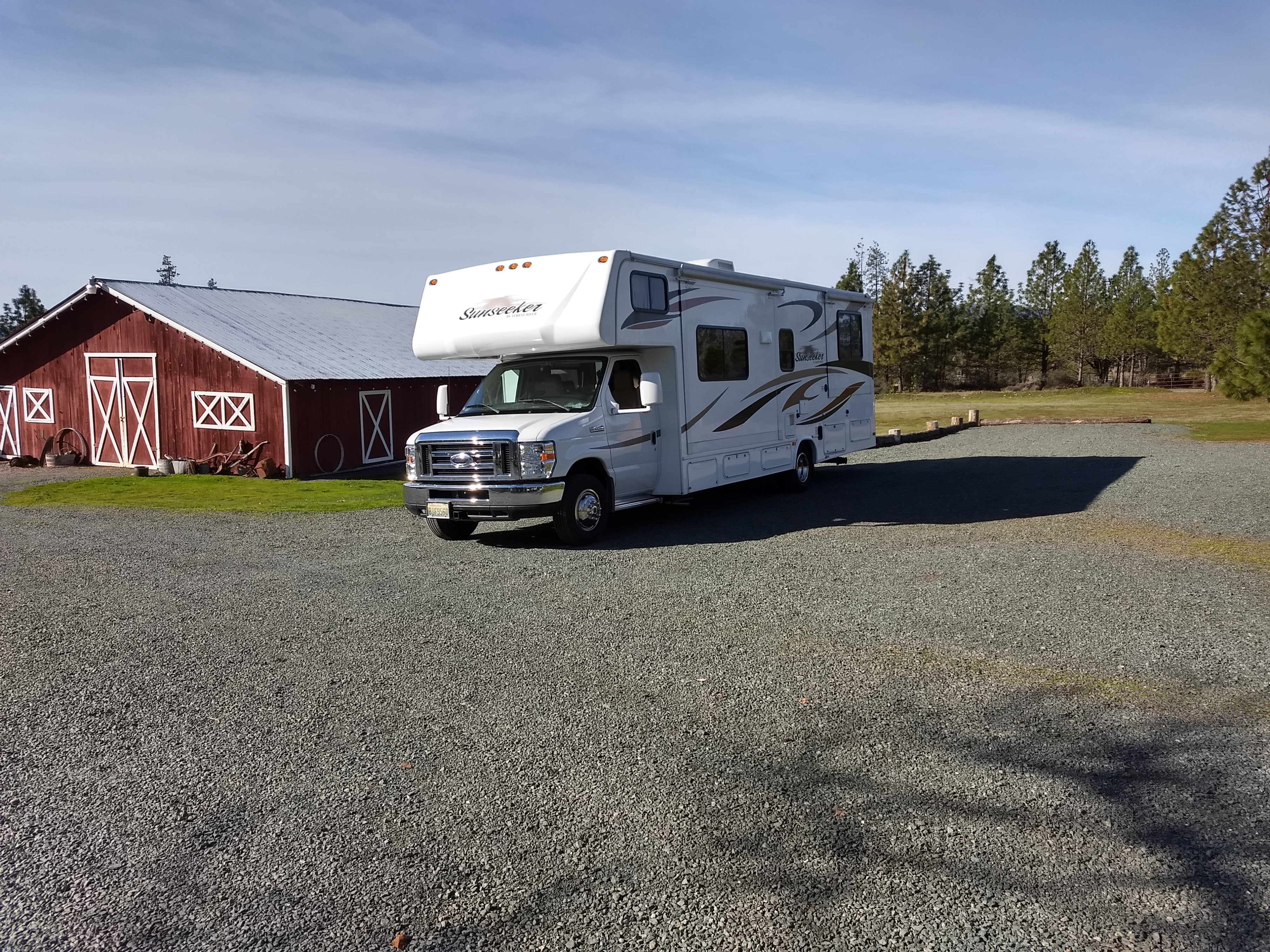 5
Outdoorsy member
Host since January 2018
---
---
100% response rate
Typically responds in less than 12 hours
About Dale Powers
We are Dale & Vanessa, who are RV newbies for approximately 3 years now. We are both retired and have fun traveling and renting out our RV when we're not using it so others can enjoy the beauty of this great nation of ours. We have so far traveled R/T from Seattle, Washington down to California then to Mesa, Arizona. We visited our folks in Spokane, WA as well. Now looking forward to a trip down through Utah and into AZ again.
5
Outdoorsy member
Host since January 2018
---
---
100% response rate
Typically responds in less than 12 hours
---
Memories made on trips with Dale Powers's RVs
---
Stephanie F.
5•September 2022
Dale and Venessa were such a pleasure to rent from. The communication was amazing and everything on the RV worked perfectly. They have thought of every convenience in the RV to make the rental easy and enjoyable. All we had to do was bring our clothing and food. We would certainly rent from them again in the future!
This trip exceeded all of our family expectations! We had tried to book through Outdoorsy last year and had two different owners cancel on us at the last-minute citing mechanical issues. We had given up on the whole idea of an RV rental until some out of town family reached out to try to arrange a meet up while they'd be in with their RV from out of state. Long story short, Dale and Vanessa restored our confidence in Outdoorsy. First off, the RV was exactly what they advertised; it was in pristine condition when we picked it up and it was immediately obvious that they meticulously take care of it and go the extra mile to ensure your RV experience is awesome. My one regret is not taking them at their word when they said you only need to bring your clothes and food (we overpacked). They have taken care of providing literally every possible thing you could need from seasoning, to disposable plates, zip locks, you name it, they had it. They reached out to us weeks before our trip and communicated regularly with us around planning, which was super helpful and reassuring. They did a thorough walkthrough on pickup and explained the operation of the RV in great detail, and made themselves available throughout the trip for quick questions. They were super flexible when our plans changed unexpectedly around pick up and drop off and were nice enough to allow us to park and charge our car in a secured garage during our vacation. All in all, I can't recommend Dale and Vanessa enough (thank you both), our kids had the time of their lives and we will definitely rent from them again and refer friends and family who are interested in a great RV experience in the WA area!
Dale and Vanessa are amazing to work with! The RV was perfect for our family and they weren't kidding when they said that all we needed to bring was ourselves - it has everything you can imagine. They were extremely communicative and flexible and even mailed us back a few things we had left behind. Can't say enough about how great an experience we had!
We rented Dale and Vanessa's 31' Class C motorhome and were VERY impressed! We loved all the upgrades and attention to detail on this coach. In some ways, it was better than new because not only did it come to us immaculately clean, but was fully stocked with ALL that we needed, like lawn chairs, a grill, cookware, RV-TP, paper towels, paper plates, foil, and so much else. We literally only needed our clothes and fresh food, although we did find water and snacks already on board for us. So nicely done! Dale even provided us gloves for drain-handling, and foam 'noodles' for the edges of the slide outs when deployed. One nice touch after another. Dale and Vanessa took all the time we needed to walk through the features and operating instructions, and even better, they were available by text for almost instant answers to questions we came up with while camping. Wonderful support! We didn't think the outdoor kitchen/entertainment center would be a big deal, but we didn't count on our grandkids inviting the friends they'd made at the campground over to watch movies outside in lawn chairs during 'campfire time' for the adults. Nor did I count on the outdoor kitchen lining up nearly adjacent to the BBQ at our campsite. Need one more plate? Pull one down from the plate dispenser. Need a paper towel? Pull one off the roll. Time to flip the burgers? The spatula is right in that drawer. Even better – need another cold beverage? Grab one from the fridge right there. This outdoor entertainment/kitchen center turned out to be our favorite feature! We had more than ten years in a Class A coach the same size, but this one had a FAR better layout, AND you get the extra bed over the cab. We thought the layout was fantastic! Loved the BIG bedroom closets! Dale and Vanessa were really a pleasure to work with – they obviously take pride in taking very good care of their RV – and its evident the wish to take very good care of their renters too! Much appreciated, great job! We'll be back next time for sure.
4 Photos submitted by Jim W.
We were so very happy with the use of Dale and Vanessa's RV. It was very clean and stocked with everything we needed. We were in the Olympic National forest with a large family reunion. The RV was our immediate family's base and it was perfect. Dale and Vanessa were incredibly accommodating and did everything they could to insure that we had a great week. Highly recommend this experience!
1 Photo submitted by Loraine L.
Dale and Vanessa were fantastic. The RV had everything we needed and more to make our experience wonderful. They communicated throughout the process. They were available if needed. They spent time to go through the RV with me and make sure I understood all the functions. It was a seamless process. The RV itself was very nice. All the camp tables, chairs, grills, plates, silverware, games, DVDs, activities, etc were included! You just need to bring yourself. Beautifully maintained RV. You will not go wrong renting this one. We will definitely be returning customers in the future! I recommend with 5 stars without reservation.
Rachael A.
5•September 2021
Dale & Vanessa were great to work with, their communication was fabulous. The RV was sparkling clean, spacious, and they so graciously provided everything we needed for a group of 6! They made the whole process effortless from start to finish. We will definitely rent from them again.
Dale and Vanessa were of the highest caliber! The communication from my initial inquiry all the way through the end was exceptional. The RV was in excellent shape, worked flawlessly and clean beyond our expectations. Their detailed walkthrough prior to departure ensured that we were very confident in the operation of all the RV'S systems. We will be renting from them again, without hesitation!
We had a great 11-day adventure with the Sunseeker. We are a family of five - two parents, and 3 kids ages 18, 15, and 13. The RV worked perfectly. The rig is in great condition and it is stocked with everything you need for a fun trip. Vanessa and Dale were fantastic hosts. They were very communicative, accommodating, and genuinely interested in us having a successful trip. We drove about 800 miles in a loop that took us to the Columbia River Gorge, Oregon Coast, Olympic Peninsula, and San Juan Islands.
The owners were so communicative and kind. They did a great job giving us a training before we left. They were also really flexible with our moving timeline of drop off and pick up. When our kiddo got sick and we had to bring the RV back a day early they were very sweet and didn't charge us for the third night. Above and beyond. We would definitely rent from them again.
4 Photos submitted by Cheryl D.
Dale and Vanessa are a delight to work with: very helpful and pleasant! Also, they are very open to suggestions and their motorhome is well stocked with whatever you might need.
Fantastic experience renting from these folks. Great communication and the RV was perfect for my family. Stocked with everything we needed!
Dale and Vanessa communicated well before the trip and helped out with questions during the trip. Well worth it!!!!!
The RV was spotless and extremely well stocked! It was perfect for my family of 4! Dale and Vanessa were also very prompt in responding to all of our questions. We would definitely rent from them again!
1 Photo submitted by Molly L.
We had a very special family trip and 11th bday celebration for our son in this RV. Dale and Vanessa are great communicators and their motorhome comes stocked with ALL the supplies you think you will need...and some you don't realize you need until you see them. We were the envy of our social distance camping crew as the RV our friends rented was bare bones, without even basic cleaning supplies. This RV is well cared for and easy to operate. Easy check-in and check-out was a breeze and informational.
We had a really good experience renting from Dale and Vanessa. The vehicle is very clean and new, well stocked with a variety of camping essentials and drives great. The outdoor kitchen was very useful during our camping trip!
2 Photos submitted by Divya T.