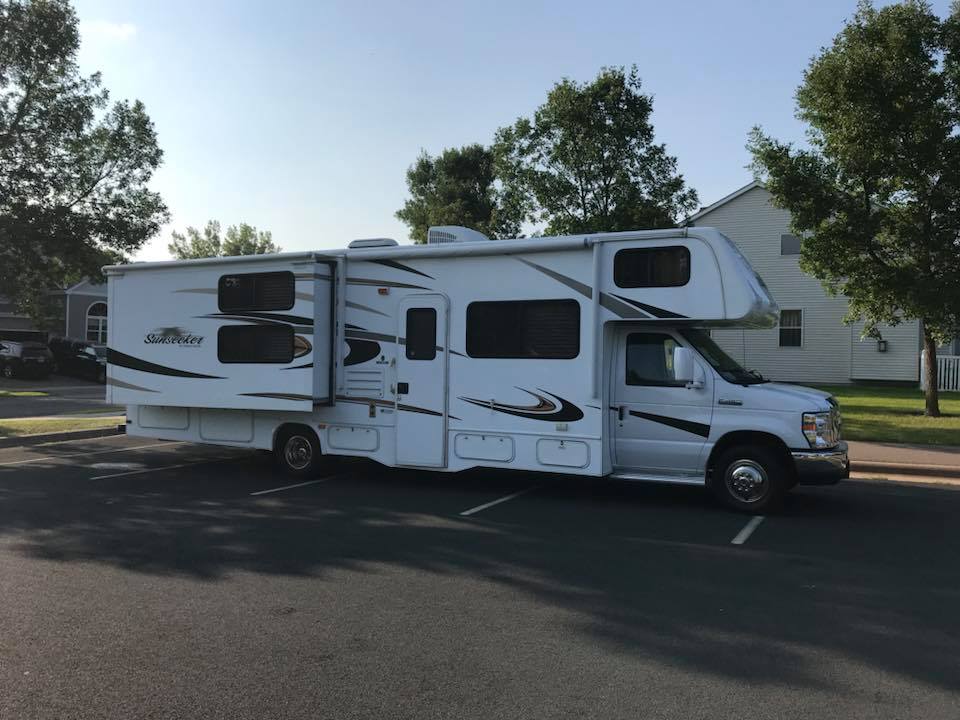 5
Outdoorsy member
Host since July 2018
---
---
100% response rate
Typically responds within an hour
About Carrie and Greg Rimstad
5
Outdoorsy member
Host since July 2018
---
---
100% response rate
Typically responds within an hour
---
Memories made on trips with Carrie and Greg Rimstad's RVs
---
We had a great time . Rv was stocked with all the extras. Zip locks soaps etc . Great to work with . Responded quickly with any questions. We would highly recommend.
Carrie and Greg's answer
Thank you! Glad you had a great trip!
Carrie and Greg Rimstad canceled the booking 2 days before departure. This is an automated posting.
Carrie and Greg's answer
We have rented for 3 years and this is the first time the RV was returned with slide not working. Because repair shops are impossible to get in with my husband ordered two motors and spent endless hours trying to fix the slide. We kept this renter in the loop the entire time and kept letting them know we need to help them find another option because we could not fix the slide.
The renter said outdoorsy was going to help them and they were pleased with service.
They even said they can't wait to rent from us in the future.
Our family has rented a few RVs and this has been by far the best experience. The owners (Carrie and Greg) were responsive, kind and personable! They even left a basket of fun activities for our kids. The RV was clean and well taken care of. We hope to rent again from Carrie and Greg for our next RV trip. Do not hesitate to rent from them. They were wonderful to work with!
Carrie and Greg's answer
Thanks Amanda for the sweet review!
Amazing!! The camper was perfect from the start to finish. We drove the camper about 2 1/2 hours and it drove smooth || worry free. The owners are extremely prompt, helpful and overall kind people. The interior was clean, fully stocked and cozy. Highly recommend!
Carrie and Greg's answer
Thank you! Your an amazing renter as well!
Can't wait to host you again!!!!
Angela W.
5•September 2020
Carrie and Greg went above and beyond to make sure we had everything we needed. They made our vacation so easy and fun! I was so happy to feel confident driving and operating the RV by myself so I could take my kids on this fun vacation. If you are wondering if RVing is right for you- this is the perfect way to try it out!
Carrie and Greg's answer
Thanks Angela! You are amazing and showed women all over that we women can do it! You rocked it and your family is GREAT!
Hope to see you again soon!
3 Photos submitted by Angela W.
Carrie and Greg were fantastic people to work with. As a firm time RV renter, they had a comprehensive list of FAQs, were prompt in their responses, helpful in their advice, and thorough in their review and explanation of the vehicle operation. The RV itself is awesome; clean, in proper working condition, and has plenty of storage and supplies to make for a great trip and experience. Our family loved our RV experience with the Rimstad's!
Carrie and Greg's answer
Thank you Aaron! We loved hosting your family and would love to have you again!!!! Have a safe and lovely Upcoming Fall! Rimstads
3 Photos submitted by Aaron H.
Our RV trip was so wonderful! The Rimstad's were amazing to work with. They explained everything about the RV in detail, surprised us with a care package for our 4 children, and left us so many goodies of theirs to use while we were camping! The RV was so spacious and clean and it fit our family of 6 so comfortably! Can't wait to rent from them in the upcoming years! Such sweet people to rent from! Thanks again!
Carrie and Greg's answer
Thank you so much! We really loved having you all!
We hope you rent again!
Your family is also wonderful!
Making Memories RV Rental
We had so much fun! This RV is perfect. The layout is awesome - so much space! It's completely stocked which was so nice. They even gave our kiddos a gift basket with snacks and colors and toys. Such a thoughtful surprise! The communication throughout the booking process to the end of our trip was great- super thorough! We will definitely be renting from Carrie and Greg again!! We can't wait to book our next trip!
Carrie and Greg's answer
Kelly thank you for the great review!
Your family was so fun to work with and we would love to host you again!
Excellent experience!! We are a family of 7 and this was by far the best RV rental experience. Plenty of space for sleeping, for all of us.
Carrie and Greg are great at communicating and extremely thorough!! The RV was exceptionally clean and was easy to drive. We are planning on renting from them again next year without a doubt!!
We highly recommend!!
Carrie and Greg's answer
Thank you so much for the lovely review! Your family were perfect renters and we look forward to having you again!!!
This RV is in great shape and has plenty of room to sleep. They provided sheets and blankets. We brought our own pillows because we're picky about that. :) The AC worked really well. The kids loved playing in it when they needed a break. We had 5 people sleeping in it and we were really comfortable. Drive great too. Carrie and Greg are amazing to work with and even had a welcome basket for the kids! An extra touch that was sweet. We didn't cook in it so I can't speak to that. If you need an RV don't hesitate renting from them. Top notch.
Carrie and Greg's answer
This is so sweet of you! Thanks for the great review and you all were also amazing renters!!!!! Greg and Carrie
Carrie and Greg were awesome to work with. Made our RV rental so easy and enjoyable. Would definitely use them again.
Carrie and Greg's answer
Thank you Jack! I hope we can work with your wonderful family again!
Greg and Carrie
Making Memories RV Rental
Great trip. Carrie and Greg were very responsive and thorough. The trip was amazing! We were the envy of all the other groups at Whistling Straits. Highly recommend just make sure you account for your own mileage overage in the final quote. I don't believe they included anticipated mileage overage in their original quote.
This RV was awesome! Greg and Carrie were great to work with! They were very detailed and were always responsive if we had questions. They had the RV stocked with everything you would need. They also left a welcome basket which was so nice and thoughtful. We had such a great time and would definitely rent from them again!
1 Photo submitted by Sarah S.
The RV was great! Or in the words of our 6 year granddaughter, "This is Awesome!". She even wanted to go to bed early.
The RV came stocked with all we needed for the weekend. Carrie & Greg are easy to work with and great educators about the equipment. We'll check their calendar again in the future.
We are still pinching ourselves as we think back and wonder how
we were so fortunate to come across this RV rental. It fit
our family perfectly and comfortably..So nice, clean, and filled with
all the essentials we thought we may need and in it, we got to each
destination with ease and reliably.
Have to say I wasn't sure how it would work out to deal with people,
not a company, renting out an RV...but to our great surprise and pleasure,
we met Carrie and Greg...first through very thorough and friendly
communication via Outdoorsy and then in person.
It was a great experience from beginning to dropping off the RV.
Thank you so much Carrie and Greg for helping us make great memories
at our Family Reunion by making this RV available to rent.

We had a wonderful time renting Carrie and Greg's RV! They were so great to work with! The RV had all of the supplies we needed which made packing very easy. It was also clean and in great condition. We will definitely be renting with them again!