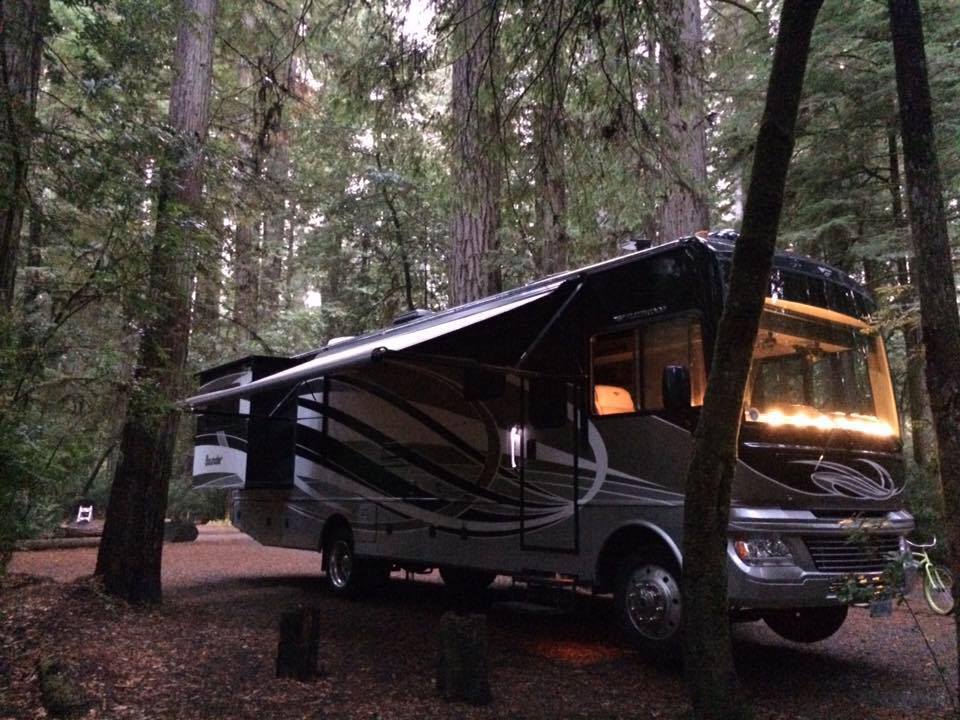 4.9
Outdoorsy member
Host since September 2018
---
---
80% response rate
Typically responds in less than 12 hours
About Cari Stewart
We (myself and my fiance) are a couple of full time adventurists. We are both professional pilots and spend our time exploring the world, working hard and playing hard. We love all motorized toys... motorcycles, fast cars, jeeps, and planes. And animals... our dogs and horses often adventure with us!
4.9
Outdoorsy member
Host since September 2018
---
---
80% response rate
Typically responds in less than 12 hours
---
Memories made on trips with Cari Stewart's RVs
---
As described. Nice trip. We are ready to go again. Only downside was rough suspension but we rented for the camping not the drive.
We had a great time in this beautifully decorated RV. Cari was easy to work with and very friendly. She quickly answered my questions throughout the trip.
Cari's RV is amazing. She was very thorough when we picked up and made sure we were comfortable with everything. She checked in with us during our trip to make sure we were doing okay. The return process was seamless. She was great to work with and we loved her RV!
1 Photo submitted by Ashley P.
We had so much fun with this amazing RV! Easy to drive, so much space, and the remodel looks amazing! Will definitely do again.
3 Photos submitted by Alicia A.
We had a blast. Cari did a great job running is through how to operate her RV and everything was clean and smelled good. We had a great adventure with our kids and it was a trip of a lifetime!! Thanks Cari for renting your baby!!
3 Photos submitted by Alicia A.
Great trip and great RV! Cari was very helpful whenever we needed her for anything. Highly recommend renting this TV!
We just had a magnificent 10-day 45th anniversary trip in Cari Miller's 2015 Bounder!!! We did so much and saw so much is difficult to even remember it all and happily we got to take our 3 pups with us. I called it our Great Heartland of America trip. We are not experienced RVers, but Cari expertly prepared us for using the RV and then was there any time we had a question or issue. We started with two great nights in Nashville (including anniversary dinner which was probably the best meal we've ever had at Jeff Ruby's Steakhouse). We continued from there to Louisville where we toured Churchhill Downs and the Buffalo Trace Distillery. Then on to Lexington where we stayed at the Kentucky State Horse Park Campground. From there, we dined at the Kentucky Castle in Versailles and also toured the Ark Encounter in Williamstown, Ky and the Creation Museum in Petersburg, Ky. Lastly, we spent an awesome two days in Amish Country at Berlin, Ohio. We did not have a single unexciting day on the trip (except for the 10+ hours that it took us on the last day to get back to Texas). We may have been a little too ambitious because we drove a little over 1,500 in the RV plus another 1,000 driving from Texas to Memphis to Cari's house and back(way too much driving). Thank you Cari and Skip for use of your great RV and for being there for us every time we needed you or had questions.
6 Photos submitted by John H.
We had a great time!! We covered about 2,300 miles in 28 days. We were out from home for the first time since covid started. We are both retired so we decided to give this motorhome a try. Cari, her husband and her brother just finished givung it a fresh coat of paint, new couch, new upholstery and a new floor. We had a trouble free trip. No mechanical problems and no breakdowns. We used the 28 days to visit friends and relatives starting at Hilton Head and then south down the eat coast of Florida, then over to Bonita Sorings, Ft. Myers Beach and finishing up in Sarasota. We would do this again but not go so many places but spend more time in a few- St. Augustine, Ft. Myers (million dollar sunsets) and Sarasota. Cari was a great motor home hostess checking in occassionally ro sre how things were going. We sent her pictires of beaches and sunsets and she sent us pixtures of the snow and ice in Memphis. She liked the sign we made for the people following the RV. It was a great trip. The one thing we realized is that it is very concentrated driving. In the future we would plan a max 350 miles a day, off the road at least 2 hrs. before dark so we woiuld not be setting up in the dark and could relax in our home on wheels. Mike and Sarah, Germantown, TN.
11 Photos submitted by Mike and Sarah D.
Brittany C.
5•October 2020
We had an absolute blast in this RV! Cari provides everything you could need for setting up camp somewhere (bedding, pots & pans, lounge chairs, table cover, etc.). Once you get the hang of being behind the wheel, the RV handles well and is super easy to drive. Cari did a thorough review of setting up the rig with us and went for a test drive around the block. She also left us with a handy book with the information she covered in case we forgot something.
Wonderful rental experience! It was our first time and Cari made everything very easy. The RV was easy to drive, loaded and everything worked just like it is supposed to (except for the awning, but was not a big deal for us). Great instructions, relaxed on pickup and drop off times, and very accommodating. It was a perfect choice for us and our kids will never forget it. We made so many wonderful family memories and highly recommend.
1 Photo submitted by Shannon G.
Cari took the time to go over every single detail of the RV, and even though it was a lot of information, she explained it in a way that was easy to understand and helpful. We had a blast on our trip, and loved the RV. What a great time we had.
Cari is a fantastic person to rent from. Had a small mechanical problem before the trip and Cari was on it and had it fixed ASAP. Wonderful people to work with. Its hard to find truly caring people today.
Really great experience. The lower rating for mechanical was due to batteries that were weak and died on me, but Cari was outstanding in immediately calling me and helping me figure out how to deal with that. I choose Cari's RV because of the prior reviews stating that Cari was helpful and always available for questions and this was true. I also choose the RV because of the detailed instruction walk around that Cari gives. This was extremely helpful and important in learning how to safely operate the RV.
I had a wonderful experience with Cari Miller. No problems!!!
1 Photo submitted by Frankie L.
We rented for a weekend and did not venture far from our home as we are newbies to the Class A world. From our initial inquiries to our return, Cari was always available and checking in with us. We really appreciated having a document that explained all the essential tasks associated with setup, shutdown and operation. All appliances and equipment worked just fine. The bed, sofa and dinette were all very comfortable. We particularly liked the layout of the coach. All is all a wonderful experience. -Susan and Rick Parker
2 Photos submitted by Rick P.