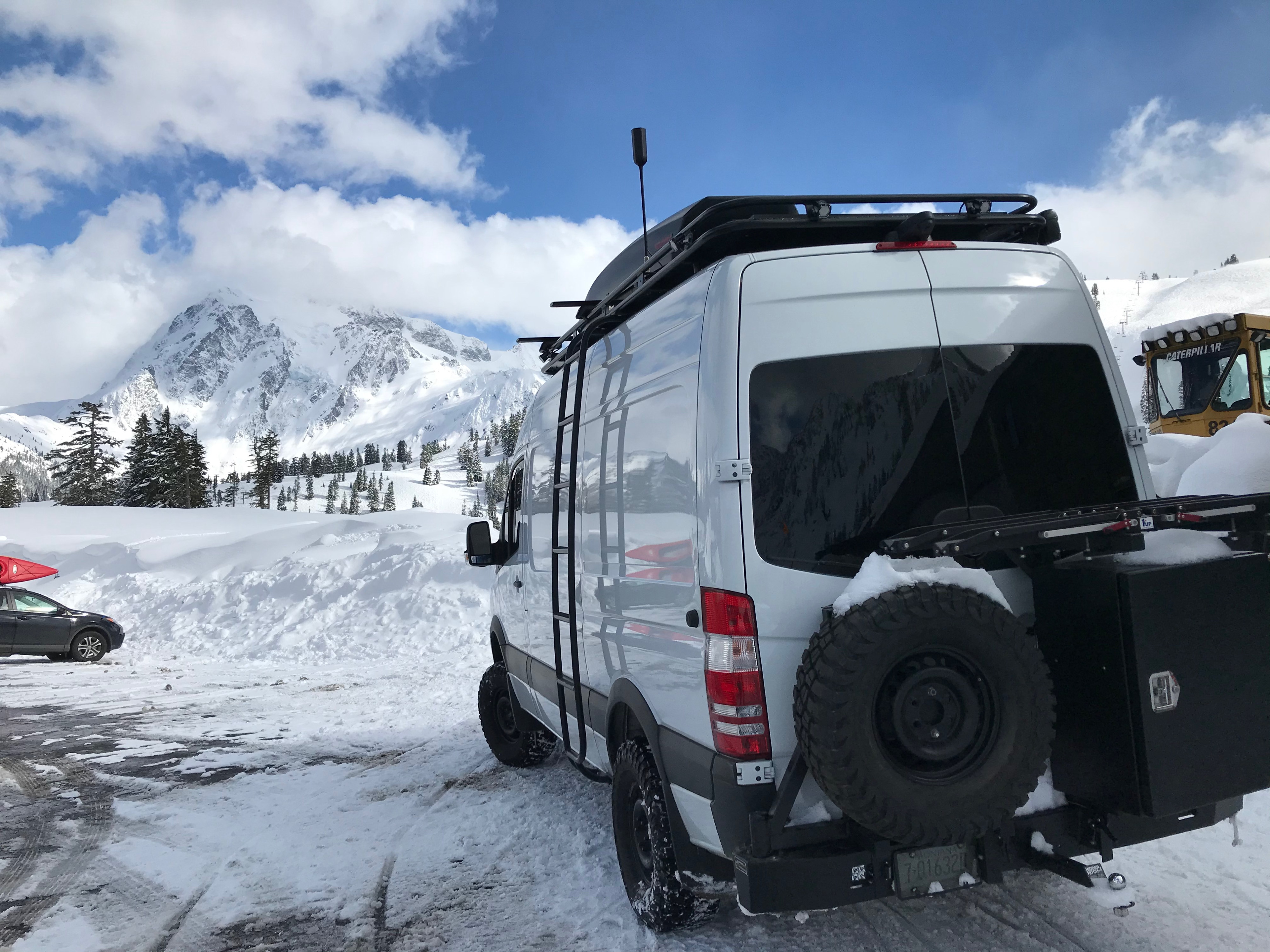 5
Outdoorsy member
Host since June 2019
---
94% response rate
Typically responds in less than 6 hours
About Bryce Phillipy
This is our personal van and our first venture into rentals. We know Outdoorsy patrons will treat this one-of-a-kind vehicle with the same love and care as we do.
5
Outdoorsy member
Host since June 2019
---
94% response rate
Typically responds in less than 6 hours
---
No RVs available to rent
Bryce Phillipy does not currently have any available vehicles.
Memories made on trips with Bryce Phillipy's RVs
---
We used the van in the winter, it is fully equipped and adapted for a winter adventure. It handled the snow well, kept us warm and cosy for the duration of our 4 day ski trip. Temperatures dropped to 22 F during the night and we were still so snug. Heated floors, wifi and sound system were such an added bonus. Bryce was so nice to deal with and answered all of our questions. The instructional video was really helpful. The van was everything we could have wanted and made our ski trip extra memorable. Highly recommend!
The outdoor reset is an impressive vehicle, Bryce and his wife have done a great job making sure nearly everything needed in the wilderness is included. The custom build is high quality, water & power systems are reliable and it has no trouble off-roading to more remote campsites. The van will even keep itself charged with the solar panel! There is also plenty of storage space between the cabin, rear van box and roof cargo box. All that combined with the fridge & freezer means comfortably staying off grid for the entirety of your trip. Expect many compliments on the van, for good reason! Without a doubt would be a pleasure to take it out on another excursion.
An experiment in tiny house living and spaceship amenities. We had a wonderful ten day trip into the Canadian Rockies testing our van's tolerance for potholes, gravel washboard roads, long bouts without gas stations or stores for provisioning, no internet connections, no promised electric hookup, little springtime warmth and always a chance of rain. Nevertheless, we did more than survive; we relished every day, adventuring as we hoped to! Lots of bear sightings, elk in calving season, osprey, eagles, small animals emerging from winter dens, wildflowers poking up through late snow, and waterfalls everywhere. The northern wilderness in the intense blue gray silvery colors of glacial ice or lush with green moss and lichen encrusted stream courses that appeared all around as we drove the solitary roads awed and thrilled us. All this tested our tolerance for small spaces, mysterious technology that did not fail, a really
heavy rig that provided heated floors and an invincible design that took us into the endless empty roads safely as well as allowing us the maneuverability to drive into villages and small towns. Always a "cool rig" comment from the locals. Owner had everything in perfect condition. Very open to requests. Instructions in 3 ring binder indispensable. Bed comfortable for us at 5'7". Refrigerator and freezer A-1. Electric tea kettle and automatic coffee pot luxury items. Waterless toilet modern miracle. Well stocked with necessities. Suggest a shakedown overnight before taking off on a long trip to allow time to learn what personally might be desired amenities, keeping in mind the tiny house model.
This was the perfect rental experience. Exceptional communication, great instructions for a first time van user and it was super intuitive to use (the many!) features of the van. We loved the huge water storage, great battery pack, well sized fridge, super efficient stove and phenomenal heating as we explored the Olympic peninsula in very varied weather conditions!! The van is immaculate, equipped with everything you need for an extended trip, and was the perfect vehicle for my first road trip with my 8 year old. Looking for another trip to take the van on. Thank you Bryce!
Incredibly positive experience. From pre-pickup to return, Bryce provided us with a great experience in his immaculately maintained and equipped Sprinter. Watching Bryce's video on equipment operation gave us all of the details to fully utilize the vehicle. Bryce also includes a book in the Sprinter that recaps the video, which we used throughout our trip. Highly recommend it for getaways or if you are thinking about buying your own RV/Sprinter.
2 Photos submitted by Dave R.
An excellent rental experience - the van is well appointed with useful amenities (roomy refrigerator, signal booster, heater, large enough battery to keep our electronics running and never come close to running low), but still fit in parking spots. It worked well on our cool, sometimes rainy trip. We took it to campgrounds at Rainier and Olympic, cooked every meal in it, and received lots of compliments while driving it. The vehicle is built for more intense boondocking/adventuring trips than we took it on, but it was nice to have the confidence of knowing we could sleep just about anywhere in it and have no issues.
2 Photos submitted by Becky S.
Rebecca M.
5•September 2021
Truly the most amazing adventure I've experienced. The use of the van was so easy and we had everything we needed! We were able to experience so many wonderful places during our two weeks. We fell in love with the idea of this being a regular vacation!
3 Photos submitted by Rebecca M.
We had a lovely time. The Sprinter was all we wished for. Comfortable and clean.
Our experience was fantastic. The documentation about the van and the communication was unbelievable. It was super helpful on our trip. The band performed like a dream and had every imaginable convenience. We couldn't have a better time. Bryce was exceptionally friendly and helpful. I would highly recommend renting from him!!!
1 Photo submitted by David D.
Bryce was fantastic from start to finish. All of our many questions (first time van renters) were answered before and during our trip. The details and instructions were very clear and overall it was a positive experience. The van was intimidating at first with its high profile but it was surprisingly easy to drive and we even got to use the 4x4.
We had the Outdoor Reset van for one amazing week in Olympic National Park and the surrounding area. With it we spent nights by the ocean, nestled in the forest, or improvising when needed.
1 Photo submitted by Jaime A.
Bryce and Carla were wonderful hosts. They quickly replied to all of our questions. The van included everything that we needed for a long weekend in Kalaloch. Both the fridge and freezer were spacious. We cooked all of our meals and the kitchen was generally well equipped with basic items; we brought our own French press and knives to round things out. We thoroughly enjoyed taking a hot shower in the woods! What a luxury.