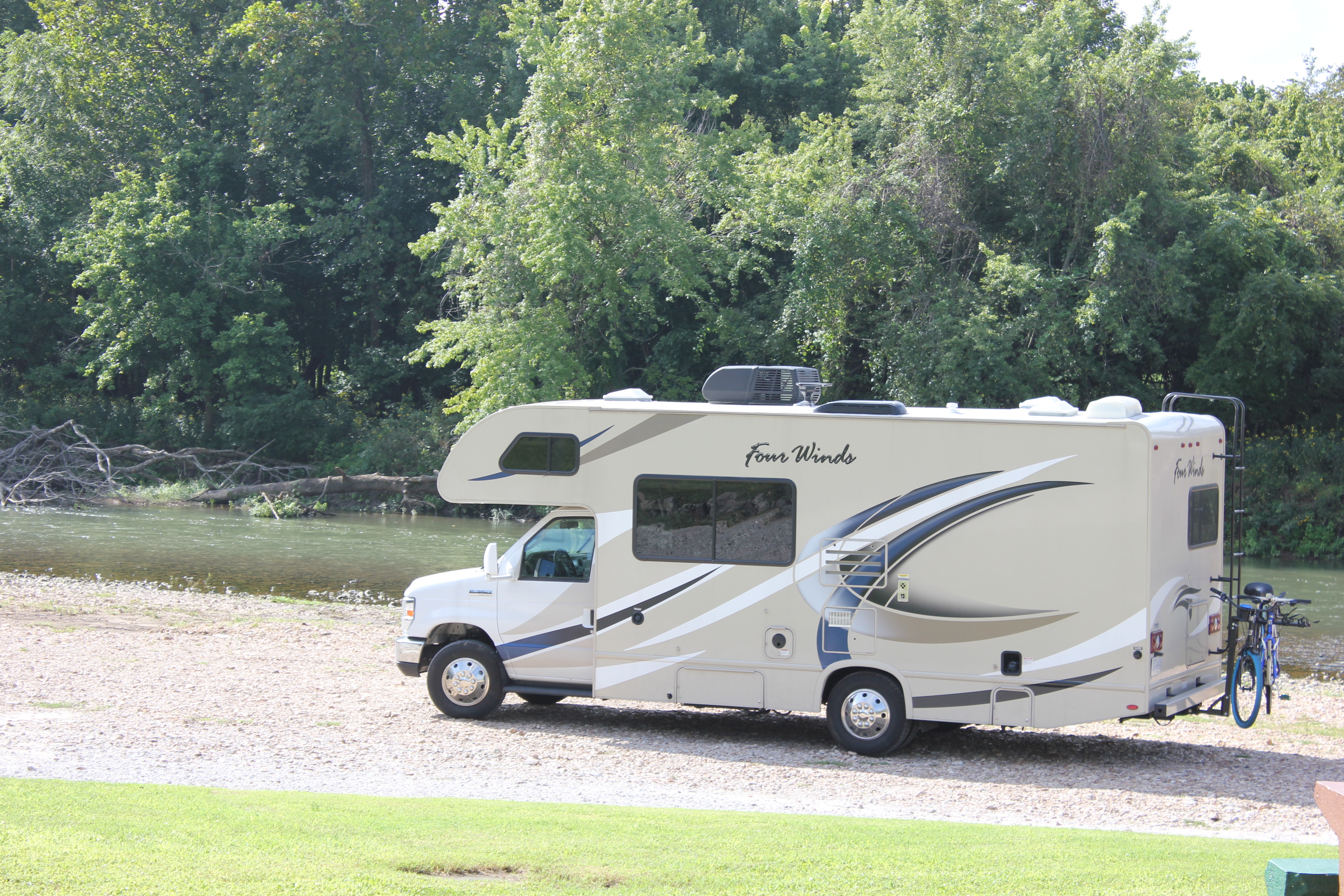 5
Outdoorsy member
Host since June 2019
---
---
100% response rate
Typically responds in less than 6 hours
About Mike & Laureen Blakemore
Mike and Laureen moved from Shipston-On Stour, England to Blacksburg, Virginia (USA) in 1995. They camped from Canada to Key West visiting 14 states in 3 months shortly after arriving in the USA. Camping in tents with their 2 year old and 4 year old children the Blakemores experienced the beauty and variety of the natural world! Years later the call of the open road and camping brought the Blakemores to the world of RV'ing (desiring a little more of the creature comforts than on their previous expedition!) Their goal is to eventually visit all 49 states in the RV- unless they can design flotation devices capable of reaching Hawaii in Spud! (Spudnik is the name of our RV- ask us why!) The Blakemores are cat lovers, used to play in a steel drum band and enjoy fun, family, free time and fresh air!
5
Outdoorsy member
Host since June 2019
---
---
100% response rate
Typically responds in less than 6 hours
---
Memories made on trips with Mike & Laureen Blakemore's RVs
---
Marissa P.
5•September 2022
Our experience with Mike and Laureen was incredible! They were amazing picking up, dropping off, and all the in between. Even our smallest issues they addressed immediately while we were gone. This was our first experience renting an RV and I highly recommend this couple if you plan an adventure!
11:26 am
This was our first RV trip and was a great experience! The owners were very professional and polite! The vehicle was clean and taken care of before our trip to make us as comfortable as possible! We will be renting from them again in the near future!
Mike & Laureen Blakemore canceled the booking 5 days before departure. This is an automated posting.
Mike & Laureen's answer
Unfortunately we had to cancel this booking because the generator died in our RV and we were unable to get it fixed in time. We shared this information with the renter and agreed that it was best to go ahead and cancel. We were sorry that this was necessary but obviously need to take care of ensuring our RV is in complete and safe working order.
owners are very friendly, easy going and to the point. very helpful in providing ample information for first time users such as myself. The unit itself was very clean, functionable and had plenty of space for my wife to overpack for our two kids. everything worked as described and trip went off without a hitch. I would definitely rent this unit again without hesitation.
Our first RV trip ever was fantastic. We had a few mishaps but nothing serious and we would recommend this RV to anyone. Our experience was so positive that we will be purchasing a RV next summer.
Mike & Laureen's answer
Thanks for your 5 star review and your care of Spud while on your amazing adventure!
3 Photos submitted by Margo W.
We had such a great experience with "Spudnik". Michael and Laureen were fantastic owners and extremely helpful. They provided loads of info and support to get ready for the trip. Their custom orientation answered all our questions just before we set out on our 2-week, 2900+ mile tour of the Great Lakes. The RV was an ideal size for our needs. Compared with larger RVs, Spudnik is relatively easily maneuvered. We drove it through downtown Buffalo, NY, and Traverse City, MI, without concerns. Parking at all our campsites was a breeze. Our family of three slept comfortably using the main bed and loft bed. Our two beagles loved the ride and were comfortable in the doggie beds we brought for them.
Mike & Laureen's answer
Thanks so very much for your excellent review. We enjoyed meeting you and were delighted to hear about your wonderful adventures in Spud! We truly appreciated the great care you took of Spud as well as the delicious gift you brought back for us!
6 Photos submitted by Todd L.
We had a great trip in Spudnik! As first time RVers our trip was a breeze! The orientation provided by Laureen and Mike was very thorough and they answered all of our questions. Only hiccups we had were user error and easily resolved in a couple minutes. The RV was well outfitted with camp chairs and other basics, which saved us a lot of packing. There was also a really nice welcome basket with s'more supplies, hand sani, a crossword book, and other awesome basics. Would rent again!
Mike & Laureen's answer
Thanks for choosing Spud for your adventure! We enjoyed meeting you and you did a great job taking care of our RV.
We had a great experience driving this RV to the Great Smoky Mountains. The RV was very easy to drive and hook up at the campsite. The owners did a wonderful job of teaching us how to use all of the hookup equipment and did a test drive with us since it was our 1st time operating an RV. Spudnik was equipped with everything we w
needed from cookware, dishes, games, and an outdoor table. linens/towels were also provided which was a useful convenience.
Mike & Laureen's answer
Thanks for being great renters, glad you had a wonderful adventure!
6 Photos submitted by Laurie E.
We had a wonderful trip from Virginia to Wisconsin. Spudnik is a fine motorhome and Mike and Laureen were great. We really appreciated that we could take our dog along.
We were successful in driving over 1200 miles to Kansas to visit our 85 year old mom in a safety bubble....the Spudnik. It served our needs well and was very well equipped. I would like to use it again for a more recreational vacation. Mike and Loreen were very helpful and accommodating. They were very available if we had questions as this was our first RV experience. They made it very easy!
Mike & Laureen's answer
Thanks for your wonderful review. We appreciate your patience and how well you took care of our Spud! Glad to help you visit your mom and hope you'll be able to take time for fun Spudnik vacation in the future!
4 Photos submitted by Jane W.
Great experience—exactly as listed. Thanks!
Our trip with Mike & Laureen's RV was amazing. We had a group of four women and traveled around the Blue Ridge and Smoky Mountains. We had no trouble with the RV whatsoever. Easy to drive, easy to maneuver, and we felt very comfortable with their support and RV Manual that was provided to us. Mike and Laureen also provided necessities for us including sheets, plates, bowls, cups, mugs, cooking & eating utensils, and a couple pots and pans. So helpful to have a set of stuff on the RV when we arrived. We ended up needing a few more mixing bowls, wine opener, Tupperware, and pans but that was just because we were cooking pretty extravagant meals! Thank you Mike & Laureen!
Mike & Laureen's answer
It was great to work with you, thanks for taking care of Spud! Glad you had fun adventures!
Overall, very good experience; will assist us in determining whether to purchase a towed RV or a motorized one.
Bernard M.
5•September 2020
The experience we had with the RV was great. Except for the rain on the last day. We would rent again from Mike and Laureen.
1 Photo submitted by Bernard M.
Lauren D.
5•September 2020
From A to Z, they were responsive, helpful, and accommodating. They even had a welcome basket waiting for us at pick up, which our kids absolutely loved!