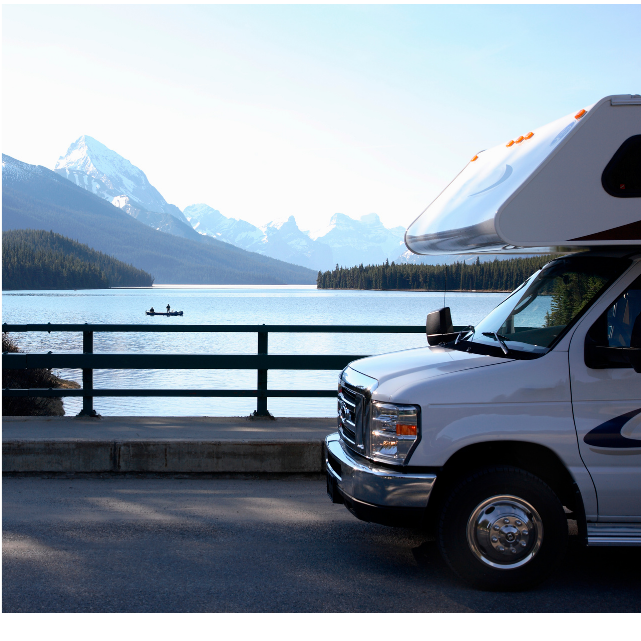 4.7
Outdoorsy member
Host since October 2019
---
---
0% response rate
Typically responds in less than 6 hours
About Caitlin Dailey
We're RV owners who love to travel and meet new people.
4.7
Outdoorsy member
Host since October 2019
---
---
0% response rate
Typically responds in less than 6 hours
---
Memories made on trips with Caitlin Dailey's RVs
---
On day two we found the Heating/AC controls for the driver and passenger compartment were not working correctly. Namely the controls that direct where the air goes like floor, vents window etc. Most of the time it was some place that didn't allow full are flow to any selected setting. Once we reached Lake Louisem AB and the nights got down to the high 20s er found that the furnace had quit working. There was no one available to fix it so we had to rely on a space heated that came with the RV, Several nights the coach got down to the low 50s. We spent a day of our time finding a tech that would at least look at it. But they didn't have the part. The Black water tank gauge always showed full, Fresh water gauge was always empty Empty.

Pamela C.
1•September 2021
There was multiple deferred maintenance issues with this rv and we had a bad rental experience. Caitlin was very nice throughout our communication but didnt fix with any of the issues prior too or during our trip. This was our first rv rental and we did not realize the significance of some of these items until we were on the road. Caitlin informed us when we arrived to pick up the rv of these first 2 issues: Broken / unusable awnings and broken fridge door latch. This meant without use of the awnings, no shade at our campground and during the trip the refrigerator door would fly open unexpectedly and our food would fall out on to the floor. I brought and prepared food for our family for the entire week. Since we lost a large portion of the food we brought we ended up needing to eat out several meals, that we had not planned on either. She did not have any bungee cords or even tape in the rv to try to keep it closed. The broken air conditioning was a surprise we were not aware of. We took our rv trip during an extreme heat wave and it was between 108-113 every day. During our test drive, the owner asked if it felt cool yet and I replied with , Maybe?? We were all sweating during the test drive. I thought since this was a larger vehicle, maybe it took a while to cool off using the air conditioning? Once we got on the road, we realized the air conditioning was not working at all. The a/c was stuck on window defrost mode. So there was a fan blowing but only at the windshield. The air was not cold either. No airflow or cool air came out any of the vents in the rv. We tried every setting on the dashboard and it stayed stuck on window defrost mode the entire trip. When we called the owner she stated it was working fine prior to our trip. We stayed in the rv the first night and couldnt sleep due to the extreme heat. The next day we had to be outside the rv all day in the heat, with no shade since the rv felt like a hot box. It was so hot inside, it was unsafe to be in during this heatwave. We felt nauseous constantly from the heat while in the rv. Around 6pm the next day we started calling looking for hotels. We found a hotel and booked that. We still had get in the rv every day to go to our excursions and it was hell to be inside for travel. We cut our trip short one day since we were paying for an rv we couldnt even be inside to enjoy. The screen door rattled so loudly while driving, it was difficult to hear each other. On the drive home, the weather stripping along the top of the rv ripped off and hung down on the windows. The owner asked us to tape it back on the rv. We stopped at a truck stop to buy duct tape to reattach the weather stripping. I contacted the owner and asked for some compensation for the ruined rv trip. She offered $50 towards some of the lost food and $5 for the duct tape. Caitlin informed me after the trip she had fixed the fridge latch. And she claimed the air conditioning was apparently working fine after we returned it. I have a video showing me holding up a kleenex in front of all the vents in the tissue is not even moving. You can see it moving only at the windshield, even as I switch the dial to different modes. I am assuming it has been repaired at this point. I ended up contacting Outdoorsy to file a claim regarding this trip. Outdoorsy offered a 25% compensation. That covered only one night of our hotel charges. I would advise anyone renting this rv to ask to see it prior to reserving it. If we had seen it and known about the broken items and seen there was no air conditioning we would have canceled the reservation and just driven our car and staying in a hotel in the first place. I will not be using Outdoorsy again. (This website will only allow me to upload still photos and not videos, so I couldnt upload the a/c video.)
2 Photos submitted by Pamela C.
Caitlin is so efficient and easy to work with. The Sunseeker is awesome, a little on the older side but she's great.
This was our first time using Outdoorsy and Caitlin made it such a positive and enjoyable experience! We were coming in from out of state, and Caitlin was extremely helpful in making sure we were set up for success. I would absolutely rent their RV again.
Caitlin IS AMAZING. I booked the sunseeker for my Bachelorette party and she went above and beyond and decorated for us as well as packed some extra necessities. Her thoughtfulness was definitely felt and I am so glad to have chosen her for this experience it was truly the best weekend I could have ever hoped for. She made us a smores pack and bought us some cute shot necklaces and tattoos as well as made sure to have makeup wipes in the bathroom. Caitlin is a amazing, I can't say this enough! The Sunseeker treated us very well. The perfect size for us 6 gals. Thank you so so much!
3 Photos submitted by Katurah S.
This RV was much more comfortable than those we've rented from Cruise America. The bed and pillows were perfect, everything worked from the engine to the freezer and the oven. Caitlin was an excellent hostess, even providing us s'more makings for our 10 day, 3 state trip.
We had a wonderful vacation in this RV. It's has a perfect layout with compartments and sleeping space and ease of driving. This was our first experience and Caitlin was awesome in communication and answering questions before, the training and key handoff and during our trip,. We highly recommend Caitlin and this RV.
1 Photo submitted by Ron And Suzanne F.
Oh my goodness! Caitlin surprised us with decorations for our anniversary and a wonderful gift basket for our trip and our doggies! A total surprise that made the start of our trip that much more exciting.
The motorhome was clean and ready to go, ran great mechanically, and drove great. Everything worked as it should have. We had a comfy little home away from home. We loved the the power awning! Now if the weather had cooperated, our trip would have been fantastic. But the motorhome was great and Caitlin was a charm to work with!
1 Photo submitted by Donna L.
The RV is awesome and Caitlin did an amazing job making it the perfect vacation.

The RV was great for our needs. Caitlin was very helpful and walked us through all we needed to know. We will definitely rent from her again!
1 Photo submitted by Ryan W.