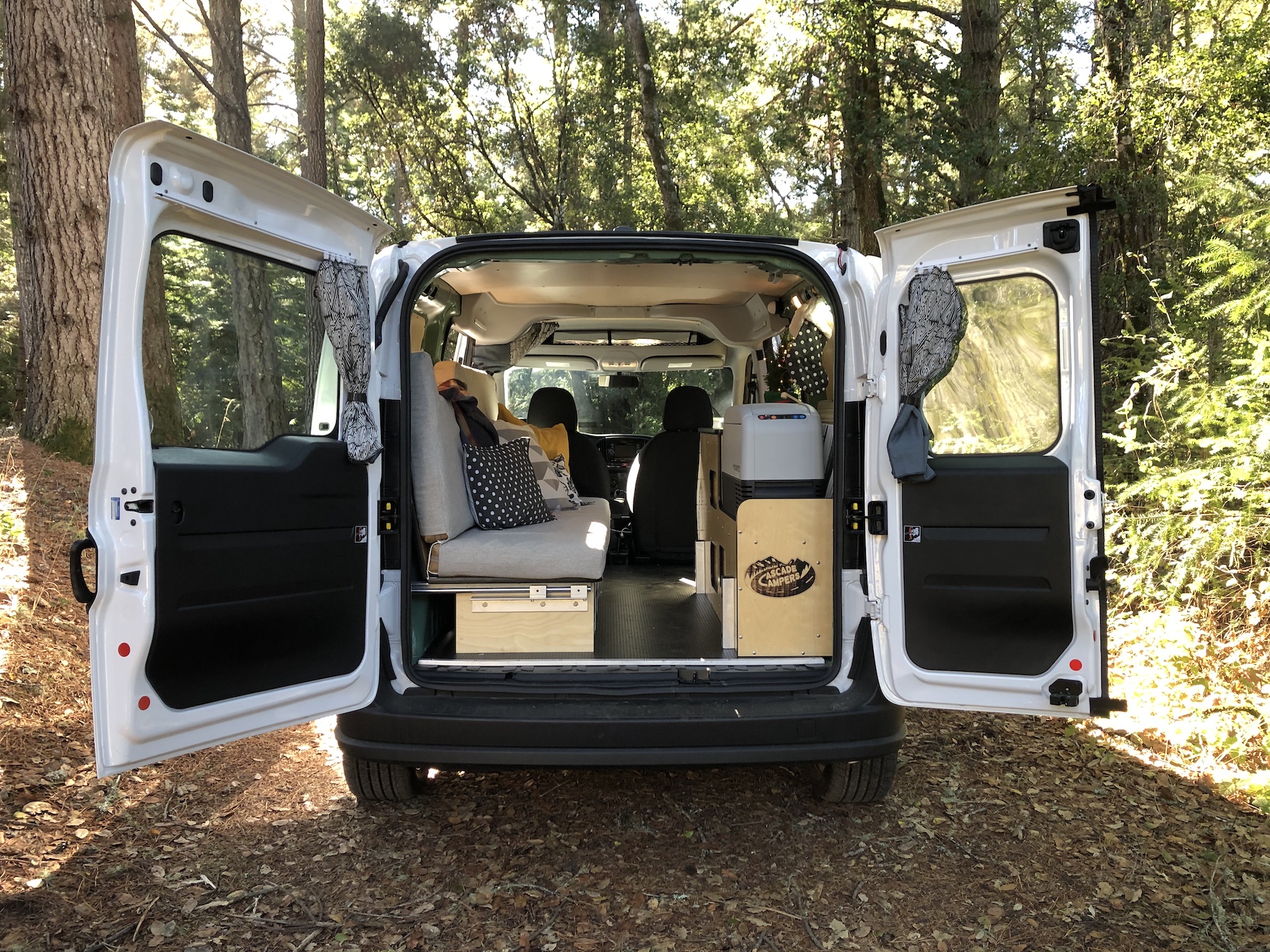 5
Outdoorsy member
Host since December 2020
---
---
94% response rate
Typically responds in less than 6 hours
About Claudia Quene-Mendiguchia
We are Kyle and Claudia, camping enthusiasts and owners of VanVan Campers. VanVan Campers is a micro camper-van rental company with one van (for now). We started this company with the goal of facilitating adventures. Located in San Diego, we're the perfect jumping off spot for a variety of excursions. Claudia worked in the consulting and health insurance industries for almost a decade before deciding to explore other career options. Kyle is a musician for the San Diego symphony. They moved to San Diego from NYC in March, 2020 right as the pandemic got out of control. They are looking forward to many camping trips in their new micro camper van.
5
Outdoorsy member
Host since December 2020
---
---
94% response rate
Typically responds in less than 6 hours
---
Memories made on trips with Claudia Quene-Mendiguchia's RVs
---
Epic vehicle and great communication from Claudia and Kyle
We had a wonderful trip in the 2019 Ram ProMaster City van. Claudia prepared the van for our trip and the van was very clean when we picked the van up. Driving the small van was very easy and the gas milage was appreciated during the current gas prices. We went to the Eastern Sierras from San Diego with no problems. The solar panel kept the small refrigerator with the necessary power. The refrigerator was also very quiet while running. The van is very small inside so make sure that if there are 2 of you would be comfortable sleeping so close to each other. The one burner stove was adequate for us. Thank you for providing a wonderful van for our 7 -day trip. Mike
We had a great trip in the van! Easy to drive and had everything needed for a week long camping trip.
1 Photo submitted by Brad M.
Being my first trip with outdoorsy and my first solo trip of this kind, I was a bit nervous and had to quell my expectations. I then, however, found Harriett and it's AMAZING owners who were incredible throughout the entire experience. My expectations were blown away and I'm incredibly thankful for everything the hosts Claudia and Kyle did start to finish to make it as easy as I could ever imagine to enjoy myself. The van had everything I needed, it was comfortable to sleep in and got me everywhere I needed to go! If you're looking for an A+ all around amazing experience, contact Harriett's amazing owners and enjoy yourself!
6 Photos submitted by Neal D.
Harriet is wonderful and so is Claudia! My husband and I travelled all of California before moving to Florida. We will keep these memories with us for years to come!
5 Photos submitted by Madison H.
Harriet was the perfect 2-person easy to maneuver, stocked with all necessary essentials vehicle for a 5 day trip to Joshua Tree and Death Valley National Parks. Claudia was great - excellent communications, an airport pick-up, thorough review of all equipment and just-in-case tips to make for a relaxed, worry-free adventure. Two exceeded expectations bonuses - a refrigerator that easily packed fixings for dinners and breakfasts, including a bottle of wine and a comforter that made sleeping in 30 degrees toasty warm.
I am obsessed with harriett! This van was perfect size for a quick weekend trip to Anza Borrego. Me and my best friend fit perfectly in the bed without feeling crammed and the table and chairs were so clutch! Definitely needed those. The van was so easy to drive, especially on all those twists and turns up the mountains to Anza. I will definitely be renting Harriett again some time!
4 Photos submitted by Madison D.
What an overwhelmingly positive experience across the board, I would definitely rent from VanVan Campers again! They have thought of everything and decorated + stocked the van so lovingly and with such utility and literally I kept thinking "they thought of everything." I truly feel they are the facilitators of adventures! I was so nervous about renting using Outdoorsy in general because I've never done it before and read some pretty bad experiences online from renters, but maybe we just got lucky because we had amazing renters! They were oh-so flexible with our last minute trip and the outpouring of understanding and communication, insanely human and wonderfully sweet. I think we're hooked on the camper van life! We felt so luxurious and like a glamper in this camper.
8 Photos submitted by Arlene T.
Easy to drive and equipped with everything we needed. We recently retired and wanted to explore So Calif. this was a great way to travel
Rented for my parents to join on a camping trip up to Big Sur. Van was easy to drive and my parents had a great time!
We took Harriet on an adventure back in May for 16 days. I am way late on this review I know. Anyway, Harriet was absolutely wonderful and her owners were even better. They were so quick to respond and answer every single one of my crazy questions before the trip. I had no idea what I was doing when renting this, but they made sure to give me every detail I would need. Down to the size of the crates! They tried warning us that we wouldn't need to bring a bunch of stuff because they will provide pretty much everything, but me being someone who packs the whole house didn't listen. Well Claudia was correct! All you need is your clothes! The van was so cute and comfortable. They thought of literally everything. I loved the fairy lights because it made things cozy. I also loved the red lights. I was trying to do astrophotography on this trip so the red lights were fantastic. We had planned on buying an RV when we finally can do this full time, but after this trip we realized we can go smaller and do a camper van. We were sad to have to give Harriet back!
5 Photos submitted by Katherine C.
Our experience was nothing short of AMAZING! The van was perfect & filled with all the amenities we needed for our trip to Big Sur. Claudia & Kyle were very hospitable and extremely responsive to any questions we had about our trip or the van. Would highly recommend working with these two & their adorable camper van!
1 Photo submitted by Halle A.
We enjoyed Harriott and her owners, Kyle and Claudia were very helpful and accommodating! This was our "maiden voyage" in a campervan. We were discovering what we want and need as to sleeping space, living space etc. It was good to try it out locally! Thank you♡
1 Photo submitted by Margaret C.