RVing connects you with many different flavors of water as you travel about. From campgrounds using city water to spots that are hooked into well water, you never really know what water quality you're going to get on the road. Making sure you have clean, safe drinking water is important. That's why every RVer— from part-timers to full-timers— needs to consider an RV water filter for their rig.
A filtration system will clean up the grit and gunk that's present in many campgrounds' water hookups. But not all filtration systems are created equal. What kind of RV water filtration system you should get depends on a number of factors.
In this article, we'll break down:
Why you need a water filtration system

What water filter options you have

How to decide what filter is best for your RV 
If you need a refresher on how an RV water system works, watch the video below. Let's dive in!
Why do you need an RV water filter?
Most folks think that the only use for an RV water filter is to clean up drinking water. RV water filters certainly do this, but they also serve to keep your entire water system clean from the gunk that your camper will take in at every new water hookup. 
Potable water doesn't mean that the water comes out of the hose is distilled or 100% pure. Because campground water quality varies, you'll be sucking different types of sediment and debris into your RV's pipes. If you don't use an RV water filter to stop these particles from entering, they will invade your water system. This invasion will result in clogged pipes, unhealthy water, and can damage to systems like the toilet.
At a minimum, you need an inline RV water filter attached to your camper's water hose to keep from damaging your plumbing. 

What are the ways to filter RV water?
We'll discuss the many different types of RV water filters in a moment, but first, you'll want to think about where you'll put your RVs water filtration system. There are three main options when it comes to water filter placement:
Internal RV Water Filters
Many water filters can be installed inside your RV, so they don't take up space outside. Typically, you'd install an internal filter just inside the point where city water enters your RV. This setup is advantageous because you can usually install a larger filter that does more work. However, if you install an internal RV water filter in a hard to see place, it will be difficult to change the filters. You also may not see it if the filter starts to leak on your subfloor.
External RV Water Filters
Water filtration systems for campers can also be installed directly onto the hose you use to bring city water into your RV. These systems are simple to use and clean an array of particles from your RV water supply.
The Hybrid Approach
Many folks take a combination approach to water filtration in a motorhome or travel trailer. To do this, you would install an external water filter for basic filtration and then install a more advanced RV water filter for drinking water at your kitchen sink. This strategy would keep your RV water system clean and provide ultra-clean drinking water for you and your family.
Now let's discuss choosing the right one.
Choosing the Best Filter
Before we dig into the different types of RV water filtration systems out there, there are a few terms that will help you pick the best RV water filter for you:
Microns:

Particles that can dirty up your camper water supply are measured in microns. Because of this, all

RV water filters

will list their micron measurement to tell you the smallest size of particles that will be filtered out. The smaller the micron measurement, the more particles the

RV water filter

will keep out.

Flow rate:

While you may be tempted to buy an

RV water filter

with the lowest micron measurement you can find, this will impact your flow rate. A filter that takes out more particles will also reduce your water pressure because it creates more resistance as water runs into your RV. That's why all

RV water filtration systems

will tell you their flow rate measured in gallons per minute.

Life: How often are you willing to maintain your system?

RV water filtration systems

almost always have filters that need to be changed. Look for this information when buying a

water filter for your camper

to see how often you'll need to service your

RV water filtration system.
These are the three main factors you'll want to look at when choosing the best water filter for your RV.
What are the types of RV water filters?
There are several different types of filters common to RVs. Here are five of the most popular.
Inline RV Water Filters
Inline water filters for your camper are filters that are installed outside your RV at a point between the hose connecting to the campground water hookup and the point where the water goes into your camper.

Pros: Inline water filters are easy to install, easy to replace, and easy to transport, making them the perfect option for part-time RVers.
Cons: Inline RV water filters need to be replaced often and will slow your flow rate when they reach the end of their life.
Canister RV Water Filters
Canister water filters are more advanced than an inline filter because they push water through several different types of filters. These water filtration systems for your camper that allow you to customize your level of filtration. For example, certain models allow you to have up to three unique canisters with filters devoted to different jobs. One canister may be devoted to particle removal while another spends its days removing chlorine from your water.
Pros: A canister filter can be installed internally so that you don't have to worry about hooking it up each time.
Cons: Filters need to be changed, and leaks can go unnoticed if your RV water filter is installed in a hard to see place.
Countertop RV Water Filters
You can purchase a portable RV water filtration system that filters directly at the source. For example, Brita water pitchers, countertop water distillers, and water filters that attach to your kitchen sink are all viable water filtration systems for your motorhome or RV. 
Pros: These are simple, cost-effective solutions to address the varying water quality at campgrounds.
Cons: They take up precious space in your RV and only filter water at one point, rather than filtering water before it goes into your camper.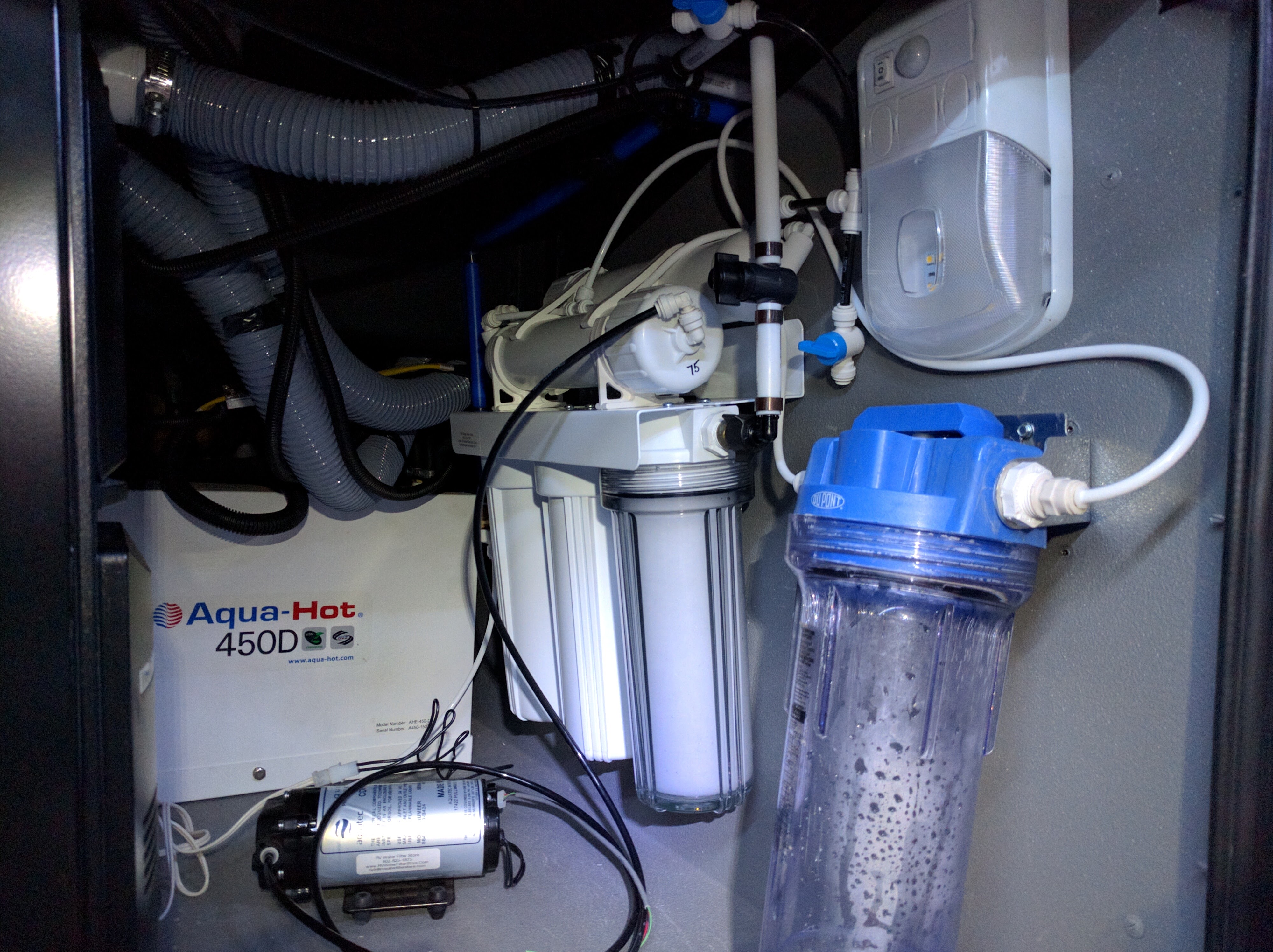 Reverse Osmosis Filtration System
Reverse osmosis systems are known for providing some of the cleanest water on the planet. However, they also waste a tremendous amount of water in the process. Water is wasted because reverse osmosis systems only allow the cleanest elements of water to get through. The system will dump the rest. This is a major problem if you plan on boondocking. The wastewater generated through reverse osmosis will quickly fill your camper's grey water tank. For this reason, you should only consider adding a reverse osmosis system if you plan to install it for drinking water at your kitchen sink, rather than for your whole water system.
Pros: Reverse osmosis provides some of the cleanest drinking water by pushing water through very dense membranes.
Cons: These systems are costly and waste lots of water.
Berkey Style Water Filters
This popular style of water filter provides some of the cleanest water imaginable. Berkey originally made a name for itself with water systems that were designed to purify water in the absolute dirtiest of situations. A Berkey is a simple water filtration system for your RV because it is an all-in-one device made up of one small tank to filter water and another tank to dispense water from a spout. It can fit on most RV countertops. 
Pros: A cost-effective and simple way to get uber-clean water into your RV. The filters also have a relatively long life.
Cons: A Berkey will take up counter space and will only filter water for drinking. This setup alone won't help you protect your RV water system from harmful particles. 
Go with the Flow
Water filtration systems for RVs might seem like a complicated web, but once you know the right questions to ask, the choices become clearer. But no matter which route you pursue, cleaning up dirty campground water is a must for any RVer. It'll help keep you and your rig happy and healthy!