'Hale Pua' VW Vanagon: AUTO SHIFT/SUBARU POWERED! Westfalia Pop-Top
4.5
(7)
4 seatbelts
Sleeps 4
15 ft
Year 1982
Meet your host, Vintage Surfari Wagons, INC
Your genial hosts at Vintage Surfari Wagons are experts at facilitating amazing EPIC road trips in these nostalgic and uniquely practical VW Camper Buses. We have been at it for over 16 years. An intimate knowledge of this world class Californian environment, coupled with the deep experience and intuitive understanding of what keeps these special dream machines on the road is unsurpassed in our region. We're dedicated to helping you experience the most unique vacation of your lifetime. The goal is to give you a big taste of what makes our corner of the world so unique. As it has been well said, "You're in good hands..."
Enhanced clean
Outdoorsy guidelines
Your safety and health is key. This host has committed to a thorough cleaning regimen informed by CDC guidelines.
Loved the Van. Great way to tour Joshua Tree National Park. I would love to see a sounds system installed to interface with iphones but other than that it was a great experience. Thanks for providing such a great service!
---
Sleeps: 4 guests

Seats: 4 seatbelts

Fresh water tank: 10 gallons

Fuel: Gas
---
---
Owner rules
SMOKING :: Our vans are smoke-free zones.
Rates
Weekly

$154.00 /night

0% discount

Monthly

$154.00 /night

0% discount
Minimum stay
3 nights
Refundable security deposit
$500.00
24/7 unlimited roadside assistance
Learn more

about Roadside Assistance
Policies
There is a non-refundable administration fee of $50 for bookings that are cancelled. If reservations are cancelled 30 to 8 days prior to pick-up there is a $250 cancelation fee. 7 days prior to pick-up there is a $250 or 50% of rental charge (which ever is greater) fee. There is a 100% of rental charge cancelation fee on "no shows". Vans are cleared for rehire after 1 day if you "no show".
Mileage
120 miles free per day You will be charged $0.39 for every mile over per day.
Owner fees
Waived for rentals of 5 days or more.

To get you help day or night!
---
---
Every new RVers biggest concern? How to dump RV waste. But don't fret! We have Outdoorsy community member, Mike Jackson, to talk you through it.
Content by
---
Enhance your trip
A nice place to sit around the camp fire!

SAVE ON LUGGAGE FEES! Our pack contains linens for two people. Two pillows with cases, 1 fitted sheet, a King blanket & a Queen comforter, 1 picnic blanket, & 2 beach towels. Each Pack is good for 2 persons, sleeping in the same berth.

We love dogs... talk to us about this if you plan on bringing FiFi. Max 2 dogs, under 45 lbs each.
---
Availability
This rental has a 3 night minimum.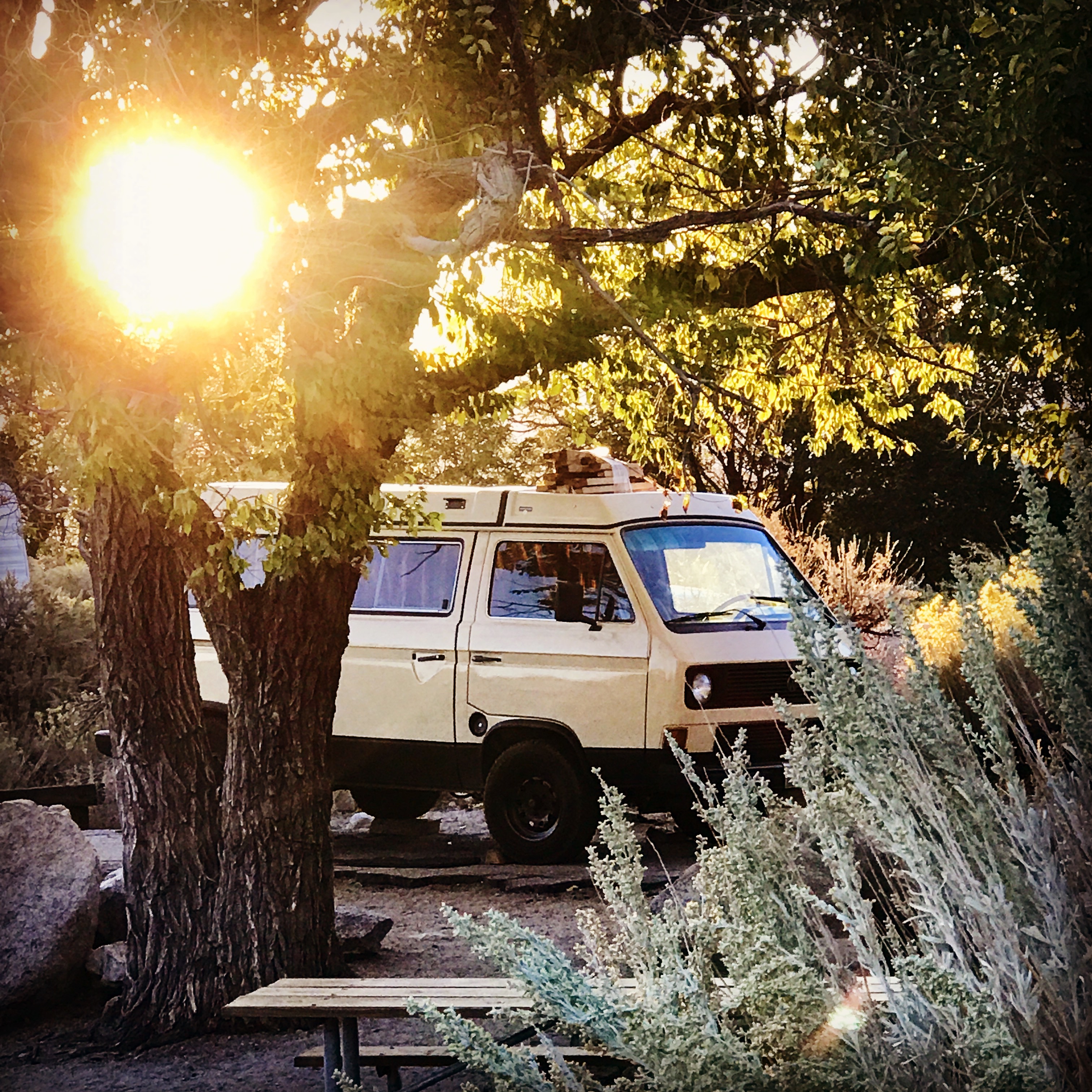 'Hale Pua' VW Vanagon: AUTO SHIFT/SUBARU POWERED! Westfalia Pop-Top
Loved the Van. Great way to tour Joshua Tree National Park. I would love to see a sounds system installed to interface with iphones but other than that it was a great experience. Thanks for providing such a great service!
I am giving this two stars because of customer service. I would rate the van and the experience of it all five stars. The van was great and I had no issues with it. If you want to get the Westfalia experience, you should definitely rent here. The thing that wasn't great for me was the customer service. When it came time to return Hale Pua, no one was at the shop. I called a few times but did eventually get a call back within a few minutes. Bill had said he thought I was returning the following day, and he was not there, he was 45 minutes away. He then proceeded to tell me the gate code so that I could get my car that was locked in the back. At this point, I had just sat in traffic for four hours and I was tired! I still had an hour drive home from Costa Mesa. The last thing I wanted to do was play car shuffle with a bunch of old vans that are not mine so I could get my car out of their lot. I was frustrated and Bill was not helping the situation. He was not apologetic at all and he made me feel like it was my problem. At one point I told him that I was frustrated and I wasn't prepared for this. He responded by saying...oh really, so if I would have told you this was going to happen you wouldn't be so upset. Something along those lines. It was so belittling. Anyway...I wanted to get home, so I opened the gate (which was weirdly complicated) and then I see my car is blocked in by a VW van. Bill tells me there are keys in the ignition and I need to back it up to get my car. I go ahead and do this but I am worried because the van is super close to the gate and I don't want to scratch the car. Meanwhile Bill says "don't hit anything" (This statement angered me). As I get closer to the street, the car dies. Then I restart it and it dies again. This happened a few times. At this point, I really don't feel comfortable, and Bill says he will be there in 45 minutes. This might not sound bad at all, but I really couldn't believe they would have a paying customer go through this. I was doing their job for them at this point and I received no apology or anything. Again, great van experience, poor customer service at the end. Upon arrival, when they were at the office, they were kind and offered me some water.
2 Photos submitted by Melissa M.
Unbelievable experience! Wonderful company that made for one of the best vacations I've ever had.
Simply marvelous. Wanna get away from everything, slow it alll down and just be with your friends and family? Wanna experience the sheer mesmerizing beauty of California? We drove around for 5 glorious days in "Buttercup" - real name "Hale Pua" and we all fell deeply in love with her. My 70 something mom, my husband and I and my two teenage daughters. Such a comfy ride, everyone gets a brilliant view, brought our dog, made tea along the way, camped 4 nights, loved all the special touches Bill and his wife provided, everything you need. Can't wait to book again. Simply can't recommend it enough. Slow down, enjoy your life, get away, take your time going through towns. Your soul will thank you.
We literally had the best time of our lives! This was an adventure that we'd meant to take for many years, and it was very worth the wait! We drove up along the coast to wine country and had an amazing time camping along the way there and back right alongside beaches and animal preserves. It was magical!! We can't wait to take another trip again in the future, and want to make it a tradition now, it was such an amazing experience :)
We had the best time in Hale Pua and would highly recommend renting from Bill. He knows these beautiful machines so well and has put heart and soul into each van. We felt like we were driving a Cadillac up the coast. Hale Pua with the Subaru engine took the hills like it was nothing. We cooked in the van with ease with everything they provided and found lots of adventures along the way. If you're looking for a great experience in a VW Van VW Surfari is the right way to go. Now we are on the hunt for our own Hale Pua to cruise around the country in.
---
---
---
---
---
---
---
---