We know RVs can be a little intimidating—especially if you've never camped in one before. After all, they're bigger vehicles than what most people are used to driving. On top of this, there are many different types of RVs, and there's a whole new world of RV terminology to learn.
While we always recommend taking your time to research your RV options, we've put together this quick guide to give you a brief intro to the basics of RVing. We know there's a lot to learn, but don't worry! Owners love their RVs and are always happy to share their knowledge and passion with new renters.  
Let's dive in so you can hit the road.
What is an RV?
If you're new to outdoor recreation, you may be wondering, what is an RV and what does it stand for? The second one is a question with an easy answer: RV stands for recreational vehicle. RV is just a broad term used to describe a motorhome or trailer that has living quarters and is designed to provide accommodation.
While you may think of an RV as a large, bus-like behemoth, RVs actually come in many shapes and sizes.
What are the different types of RVs?
When it comes to RVs, there are three main categories: motorhomes, trailers, and truck campers. Motorhomes are part vehicle, part house. This means that they can be driven without having anything to tow it. Trailers, on the other hand, require another vehicle with the ability to tow. This video from I'm Not Lost, I'm RVing does a great job at explaining the different classes.
Class A Motorhomes
These are the largest RVs on the market and can be up to 45 feet in length. These are built on a commercial bus chassis and, in some models, sleep up to 10 people. It's also common to see slide outs, which give campers even more room across the width of the RV.
These big rigs usually run on diesel and get between 8-10 miles per gallon. They are by far the most luxurious type of RV, and owners certainly pay for it.
Class B Motorhomes
Class B motorhomes are the smallest of the three. They are built on a van chassis and, for that reason, are often simply called camper vans.
If you're all about that simple #vanlife, you'll want a camper van. Most are cargo or large passenger vans converted for living, which usually includes a sleeping area, dining area, and small kitchen. Sprinter vans and the popular "Westfalias" fall in this category.
You'll typically only find one bed in these motorhomes, making them perfect for the solo traveler or couple on the road. 
Class C Motorhomes
Class C RVs fall somewhere in the middle, ranging from 20 to 34 feet in length. They are built on a truck chassis, which makes them easier to drive than a Class A, but offer more room than a Class B. 
With a Class C, you'll get designated sleeping areas, a dinette, kitchen area, and bathroom. These rigs can usually sleep anywhere between 4-8 people, which makes them great for families or groups of friends.
Motorhomes vs. Towing a Travel Trailer
At Outdoorsy, we refer to RVs that are towed as "trailers", though they can be as large as RVs.
Towing has some advantages. The biggest is that you can drive your own vehicle—assuming it has a hitch and the proper tow capacity— and leave your RV at the campsite. Driving a smaller vehicle around during the day is easy and great for multi-day camping.
Types of Towable Trailers
There are a few different types of towable trailers, just like there are a few different types of motorhomes. The different trailer types include:
Fifth-wheel trailer:

These trailers are designed to be towed by pickup trucks with a fifth-wheel hitch. 

Travel trailers:

These are towed behind a vehicle—usually a truck or large SUV. They vary in size and weight. The lighter and smaller the travel trailer, the more likely a standard-size SUV or truck will be able to pull it.

Pop-up or "folding" trailer: These are lighter and smaller campers. They have sides that expand or a roof that rises, usually with canvas walls. They're a good way to gain more indoor living space without much extra weight. These are often called "small campers," as well, and can be towed by smaller vehicles.
Toy hauler: This is for the adventurers out there. If you need to bring mountain bikes, ATVs, paddle boards, or kayaks with you on your trip, then you want a toy hauler—an RV or trailer with extra storage space for large equipment. Some toy haulers are almost all storage with little living space, so make sure to peek at interior photos before booking.
Utility trailer:

This is a more spartan version of a toy hauler and has no living space—it's just a trailer or moving vehicle-type trailer solely designed for holding gear.
Pro tip: The RV owner can probably help you determine if his or her vehicle will fit and should know what kind of hitch you need—just ask.
The Truck Camper
Lastly, we have the humble truck camper. It's not a motorhome, nor is it a towable trailer.
It's a small cabin that is designed to fit in the bed of a pick-up truck. You'll often find a sleeping area, kitchenette, and dinette in a truck camper.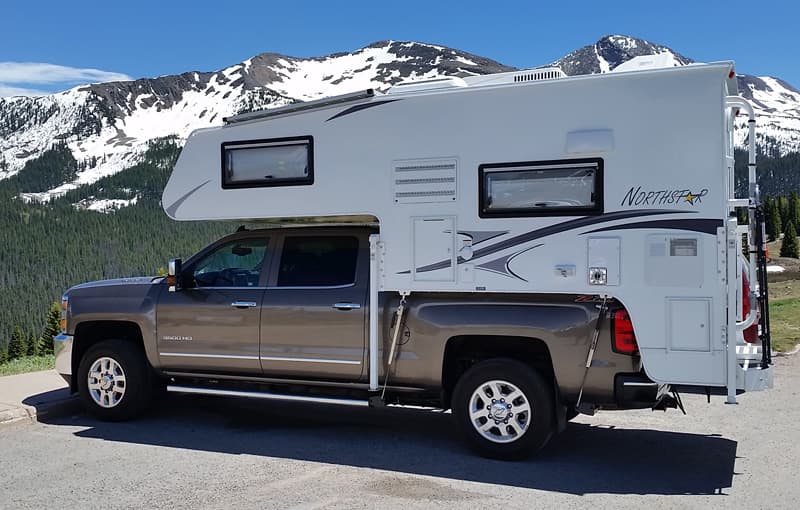 Useful RV Terminology
When renting an RV, you'll want to know a few basic terms to ensure you end up with the kind of vehicle you need for your summer adventure.
Terms to Know When Renting an RV
When browsing the selection of rentals on Outdoorsy, look out for these terms.
Sleeping capacity: This is the number of people your RV can sleep. Keep in mind that larger doesn't always mean a higher sleeping capacity. Bunk beds can fit more people than you'd think in a small space.
Wet bath: A wet bath is a bathroom where the toilet and shower space is combined. The entire bathroom floor is water proof and has a drain.
Dry bath: This type of bathroom is more like what you probably have in your home. The shower/sink and toilet areas are separate from one another.
Tongue weight: Related to the tow rating, this is the actual amount of weight your RV will push down on the car's hitch.
Towing capacity: This is the measurement of how much weight a car can tow. This number can almost always be found in your owner's manual. You cannot tow a trailer that exceeds your vehicle's towing capacity.
Tow hitch: This is the metal apparatus on the front of the trailer that connects to a vehicle. Whatever vehicle you tow it with will need to have a back hitch as well. Receiver hitches are the most common and have five different types, each rated to carry a maximum amount of weight. Remember that you cannot tow more weight than your car's manual recommends, even if you buy a hitch capable of pulling more. Ask the owner what type of hitch their trailer has to ensure compatibility with yours.

Terms Related to the RV Systems
Auxiliary battery:

Want to run the lights and equipment in your RV while the vehicle is off? Then you'll need an auxiliary battery, which allows the car to be off while providing power inside. These are often powered by solar, which helps you stay off-the-grid for longer.

Black water tank: Black water is the term for dirty water from your RV's restroom.

If you have a black water tank, it's important to know the black water capacity. 

Cassette toilet: Smaller RVs and trailers may come with a cassette toilet, a self-contained toilet than can be removed from the vehicle and emptied.
Chassis: The framework of the motorhome.
Fresh water tank: Your fresh water tank holds clean, ready-to-use water.
Grey water tank: Grey water is waste water from your sink and shower. This drains into your grey water tank, or in some cases, into the black water tank.
Leveling jacks: If you want your RV to sit evenly on uneven ground, you'll need to adjust the leveling jacks under each corner of your RV.
Terms Related to Camping and Campgrounds
Boondocking: Also called "dry camping", boondocking is a slang term for camping without hookups, generally outside of a developed campsite area.
Dump station: This is a dedicated area at campsites and RV parks where you can dispose of black or grey water. As black water is dirty and may be harmful to the environment, you should never empty it anywhere other than a dump station.
Full hook-up campsite: A campsite that offers water, electricity, and sewage hook-ups for your RV
Honey wagon: A truck or trailer that comes around a campsite to pump out RV waste tanks.
Partial hook-up campsite: A campsite that offers water and electricity.
Potable/non-potable water: Potable means drinkable. Non-potable water isn't suitable for consumption.
Try It for Yourself
We know learning the difference between types of RVs can be a little confusing. Hopefully this guide served as a good starting point for your RV search. The best way to learn the ways of the road is simply by doing. Rent an RV from Outdoorsy today and try it for yourself!