Fall is the perfect time to plan a fun-filled RV trip. Between the crisp autumn weather, stunning scenery that comes to life, and an abundance of fun outdoor activities, there is certainly no shortage of ways to spend your time. In fact, there are so many options, you may have trouble deciding what to do!
To help you out, we've compiled a list of five types of RV road trips to take, along with some of our favorite destinations.
Buckle up!
1. Embark on a Leaf Peeping Adventure
Catching fall color at just the right time can be a fickle game to play — especially for people who live in climates where the seasons consist of early spring, spring, summer, and late summer. But seeing beautiful foliage isn't just for those located in New England (although, this is one of the most beautiful leaf-peeping sites). You can actually find changing colors all around the country. If you know where to look though, the reward for seeking out specks of burnt orange, golden yellow, and ruby red is worth the drive.
Here are some of our favorites.
Denver, Colorado 
A surefire way to get a glimpse of fall color: head for higher elevations and take a whiff of the crisp mountain air. Thanks in large part to the state's Aspen tree population, Denver is within an hour's drive of some of the most scenic fall settings in the U.S. Two of our favorites: The Lariat Loop Scenic Byway from Evergreen to Bergen Park and down through the cute mountain town of Golden and the Peak to Peak Byway connecting Black Hawk to Estes Park (the backyard to Rocky Mountain National Park).
Salt Lake City, Utah
Pack up and head south of town for two of our favorite drives that are well worth their curves and climbs in elevation. If the words "winding" and "narrow" excite you, then the 24-mile Alpine Scenic Loop connecting American Fork Canyon with Provo Canyon is calling your name. Each mile gets you closer to the groves of glowing yellow Aspen that lollygag along roadsides at higher elevations. Bonus points if you stop for a hike and waterfall sighting at Cascade Springs.
If you're a driver who stops at every scenic overlook sign, you'll want to allot an afternoon to wander along the Nebo Loop. The road on this loop climbs 9,000 feet over 32 miles and rewards travelers with sweeping views of Utah Valley, the Wasatch, and 11,877-foot Mt. Nebo, the highest peak in the Wasatch Range.
Phoenix, Arizona 
In the time it takes to watch the fall classic film When Harry Met Sally, you can drive northwest from the city of Phoenix to the town of Prescott — and the nearby Prescott National Forest. From Prescott, head northeast toward the historic mountain town of Jerome. The 35-mile drive consists of equal parts teeth-gritting switchbacks and serendipitous bursts of fall color from the ash and poplar trees that hug the road. At the risk of burying the lead, we feel compelled to mention this route conveniently and charmingly winds its way into wine country.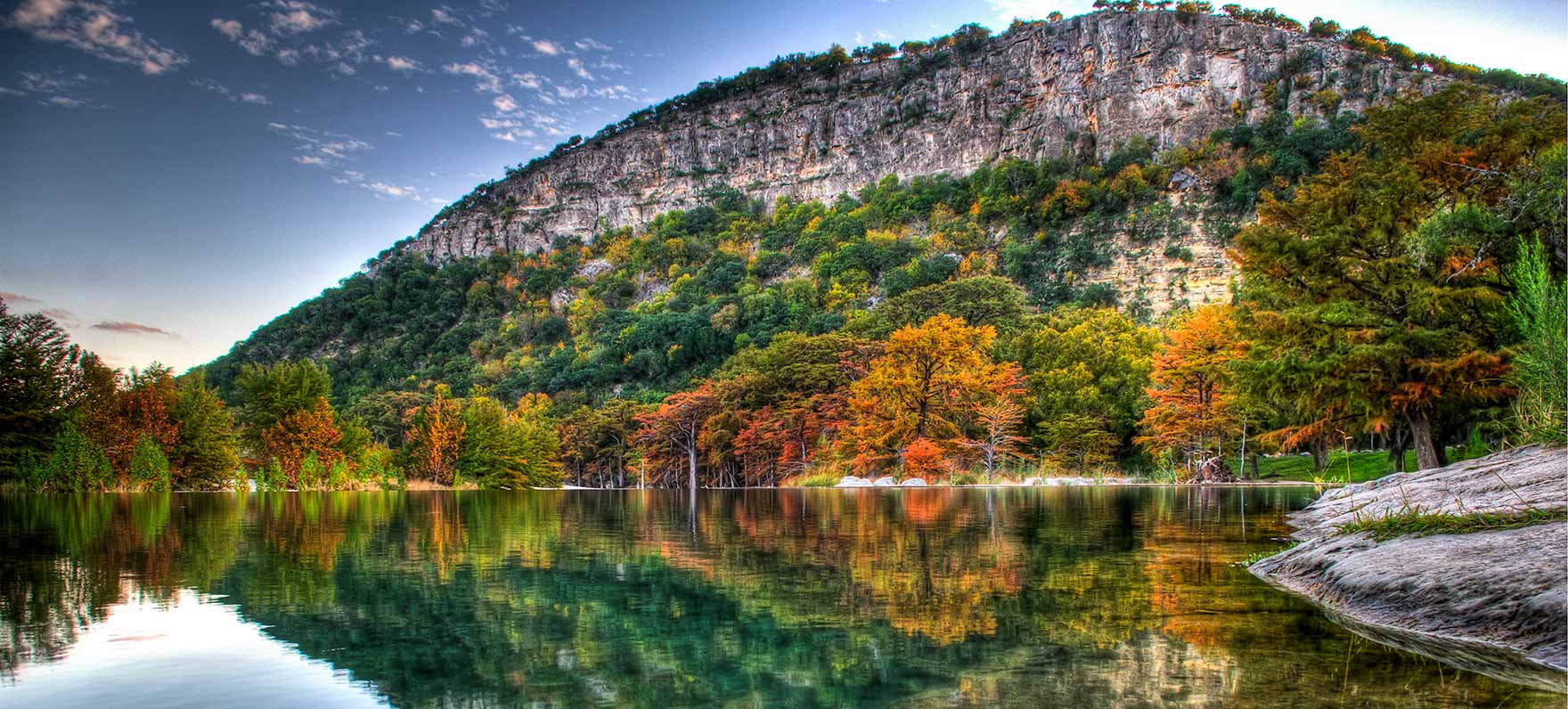 The Texas Hill Country
Finding fall color in Texas feels a bit like finding a four-leaf clover. It's hard to get too excited about the idea until you get a glimpse of one for yourself. Even the most seasoned Texans are surprised to discover that just a few hours southwest of Austin — and a hilly, pastoral drive through the Texas Hill Country away — lies a stand of Uvalde bigtooth maple trees at Lost Maples State Natural Area. Tucked between the natural area's steep canyon walls and along the banks of the frigid Sabinal River, the trees are at their peak shift in foliage from mid-October to mid-November. Nearby you'll also find more changing colors at Texas's famous Garner State Park.
Seattle, Washington 
Once you have the Seattle prerequisite in hand (aka, a cup of hot coffee), get your day off to a strong start on the Mount Baker Scenic Byway and immediately begin spotting breathtaking golden yellows and vibrant reds. The byway starts just west of Bellingham, winding along the North Fork Nooksack River to Artist Point, where spectators can soak in sublime views of Mt. Baker and Mt. Shuksan. Another option for leaf peepers lies less than a half-hour drive from the city center, where you can multitask between cheering on the salmon making their way up Issaquah Creek and taking photos of the fall foliage at the Issaquah Salmon Hatchery.
Portland, Oregon
Pack up a picnic, hit the Historic Columbia River Highway, and get ready to fall in love with the lush, colorful displays of nature along this route. Starting 20 miles outside of Portland in Corbett, the route heads east toward Multnomah Falls, Horsetail Falls, Latourell Falls, Bridal Veil Falls, and a few other scenic stopping points suitable for leg stretching and picture snapping. Pro tip: Take a weekday off work and have the road all to yourself. If you'd prefer to stay close to the city, there's no better quick weekend getaway than heading for the hills at Forest Park and hitting the trail along the Pittock Mansion Hike, which rewards visitors with 360-degree views of the entire city. Soak in views of Portland below and sneak a peek of Mt. Hood if the weather is clear.
California wine country in the fall.
San Francisco, California
In October and November, the countryside in and around Sonoma is flowing with red — and we're not just talking about vino. Take picturesque Arnold Drive toward Sonoma Valley Regional Park, where you can hike through 200-plus acres of wooded ridges and hide away under orange-hued oak tree canopies. For a drive in the opposite direction and an undulating view of fall foliage, head southeast of Fremont to Sunol Regional Wilderness, a 6,000-plus acre park nestled in the rolling hills of the Diablo Range. Hit the winding 5.3-mile trail to the Cerro Este overlook, working up a sweat as you trek up switchbacks to rewarding lookouts of burnt orange, yellow, and burgundy.
2. Go Apple Picking on a Quaint Farm
If you're taking a weekend away in your RV or just driving down the road, consider a visit to get some apples, especially if they're growing near you. It's a wonderful family outing, and it's a perfect excuse for an RV excursion. Numerous spots around the country have apple picking opportunities. Here are just a few!
New England
The Northeast, and New England in particular, is a wonderful place for apple picking. New Hampshire is full of beautiful orchards, with one of the most popular being Mack's Apples in Londonderry, which is just an hour north of Boston. You can pick your own, visit their retail store, and can even have your apples shipped home for you. Alyson's Orchard, in Walpole, New Hampshire, boasts 450 acres and a variety of rare heirlooms, with family entertainment offered on the weekends.
If you're in Vermont, consider a stop by Scott Farm, where Cider House Rules was filmed. They offer classes and many unusual apples. And Massachusetts offers lots of options too, including Red Apple Farm, which boasts a farm stand, weekend barbecues, hayrides, cider donuts, fudge, and a petting zoo. So much fall fun!
East Coast
In addition to the offerings in New England, you'll find great places for apple picking in states such as New York, Virginia, and North Carolina. Love Apple Farm in the Hudson Valley offers all the fun stuff, plus an art exhibit. For families in New York and Virginia, consider Stribling Orchard, where the bakery is open on the weekends for your perusal.
And you haven't had a hot caramel-covered apple, that must mean it's time to head to Sky Top Orchard in Flat Rock, North Carolina!
Midwest
The Midwest offers its fair share of apple picking opportunities. If you're in Wisconsin, try Brightonwoods Orchard in Burlington. Kids can climb a two-story treehouse while adults visit the onsite winery. In Minnesota, places like Afton Apple Orchard and Emma Krumbee's offer a petting zoo, corn maze, and much more each fall.
Pacific Northwest
The Pacific Northwest is another great spot for apple picking. Washington residents and visitors will enjoy Bellewood Farms, which also offers distillery tastings, fresh cider, a farm tour, and more. And in Oregon, Norm Lehne Gardens and Orchards offers a variety of U-pick options, including Thomas Jefferson's favorite, the Spitzenberg.
3. Gain a New Perspective on the Water
If you think summer is the only time to get out on the water, you may change your mind after a fall boating adventure. Kayaking, canoeing, sailing, and rafting are great activities to do in the fall. While you'll probably skip the part where you jump in, experiencing fall colors and enjoying the beautiful weather doesn't get much better than when you're out on the water.
Whitewater Kayaking near Quechee State Park, Vermont
Looking for a little thrill? New England states are famous for their fall foliage, none more so than Vermont. But at Quechee State Park, visitors enjoy stunning views more than just the trees. It is home to Vermont's deepest gorge, the Quechee Gorge, which is 165 feet deep. The Ottauquechee River runs through the gorge and is known for its whitewater kayaking opportunities. Plan to stay awhile, hit the rapids, and check out the many nearby attractions while you're in town.
Video source: Texas Parks and Wildlife
Canoeing in Village Creek State Park, Texas
Known as the Gateway to the Big Thicket, Village Creek State Park is nestled in the woods just ten miles north of Beaumont. While visitors love the towering loblolly pines, the real star of the show is the Village Creek Paddling Trail. The trail offers miles and miles of quiet, tea-colored waters to explore. You can launch your own boat from the state park or drive a few miles down the road and find several outfitters and guide services.
Sailing in Newport, Rhode Island
If there's one thing that Newport is known for, it's sailing. If you don't own a sailboat, no worries. There a number of affordable public sails that you can take part in. And if you're feeling fancy, visitors can even charter their own private ride. Tour through the iconic Newport Harbor into Narragansett Bay. From the water, you'll be able to catch a glimpse of the picturesque Ocean Drive, Pell Bridge, Fort Adams, and Clingstone, and Hammersmith Farm. And best of all, absolutely no sailing experience is required (unless you're the one captaining the boat, of course).
Urban Kayaking in Chicago, Illinois
Kayaking doesn't have to mean driving miles away from town to find a river. Sometimes, it means driving into town. Urban kayaking is enormously popular in cities like Chicago, Illinois. Paddle along the Chicago River or Lake Michigan to get stunning cityscape views. If you don't want to set sail on your own, you can take a guided tour. Some are even educational (architecture, anyone?) and will teach you something new about the city. You'll want to hurry and get your kayaking in, however, before the cold Chicago winter weather sets in!
4. Take in the Sights on Some Fall Hikes
Many people are fans of hiking but don't love to set out in the scorching summer heat. If this is you, you likely enjoy the cool weather that fall brings to your favorite trails. Parking your RV at a place with an abundance of hiking opportunities means you'll never get bored. Lace-up those boots and explore one of these four hiking favorites.
Shenandoah National Park, Virginia
With a whopping 516 miles of trails, Shenandoah National Park is home to several must-do hikes. Hikers who are up to a challenge can try their hand at the much-loved 9.1-mile Old Rag Loop. Hiking Old Rag gives you incredible views and fun as you try to scramble up the rock sides of this granite peak. The moderate Dickey Ridge Loop has trailside interpretive information, pioneer homesteads, a cemetery, a historic visitor center, and more. White Oak Canyon and Cedar Run Trail Loops are two other highly rated treks.
Aspen, Colorado
As its name suggests, Aspen, Colorado, is full of the spindly, white-barked trees that color the mountainous state in beautiful reds, oranges, and yellows every autumn. Here, visitors can see the Maroon Bells, which are said to be among the most photographed mountains in North America. This is a destination that is all about being active outdoors, no matter the season. Fall visitors can take full advantage of the camping, climbing, and hiking opportunities Aspen has to offer.
Acadia National Park, Maine
Acadia National Park has four categories of trails: coastal trails, lake and forest trails, summit trails, and the Schoodic Peninsula trails. Each offers hikers new and different views, making Acadia the perfect park if you're looking to stay busy on foot. Some of the most popular hikes include the Beehive Loop Trail, Cadillac North Ridge Trail, Jordan Pond Full Loop Trail, and the Ocean Path trail. Between the rocky coastline, exposed rocky scrambles, and lush forests, you just may find your new favorite trek.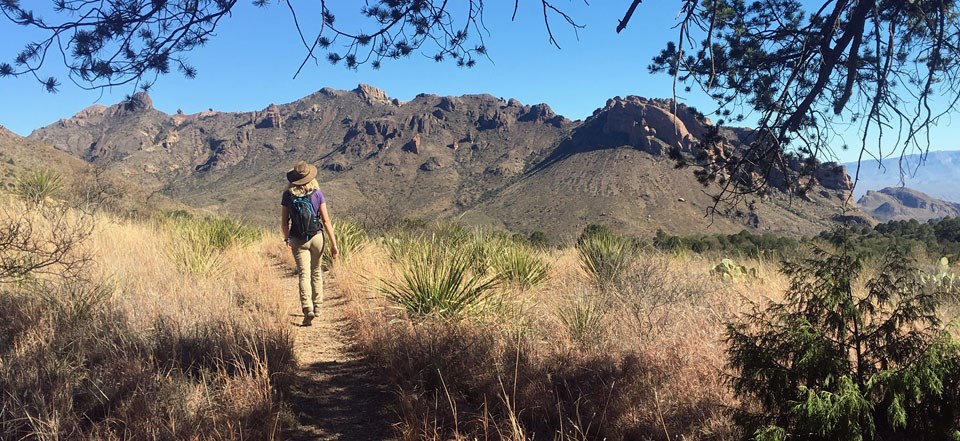 Big Bend National Park, Texas
Everything is bigger in Texas, and that holds true for the state's largest National Park, Big Bend. During the summer, dangerous extreme temperatures keep some hikers away. With fall comes cooler (and safer) conditions for those looking to hit the park's 150 miles of trails. The park is home to the Chisos Mountains, which have some of the most rewarding hikes in the state. The strenuous South Rim, which begins at the Basin Trailhead, has breathtaking views and is well worth the 14.5-mile trip. The Window Trail takes hikers through the Oak Creek Canyon to an area that frames panoramic desert vistas. For those searching for something a little lighter, the Window View Trail is an easy, wheelchair-accessible walk. You won't want to miss the great view of those famous West Texas sunsets!
5. Relax in a Picturesque Park
Sometimes the best thing to do on an RV trip is to not do much of anything. When you're on vacation, kicking back and relaxing in a picturesque park can be just as fun as exploring. Check out these areas that are a joy to exist in.
Great Smoky Mountains National Park, North Carolina and Tennessee
One of the most popular parks for leaf-peeping in the South, Great Smoky Mountains National Park offers beautiful drives with an abundance of scenic overlooks that keep visitors coming back year after year. This park offers plenty of choices when it comes to campgrounds and activities. It has ten developed campgrounds and a wide variety of recreational opportunities. Some can't-miss spots here are Clingmans Dome, Cataloochee Valley, Cades Cove, and Roaring Fork. Still, many just enjoy plopping down a chair and taking in the mountain air.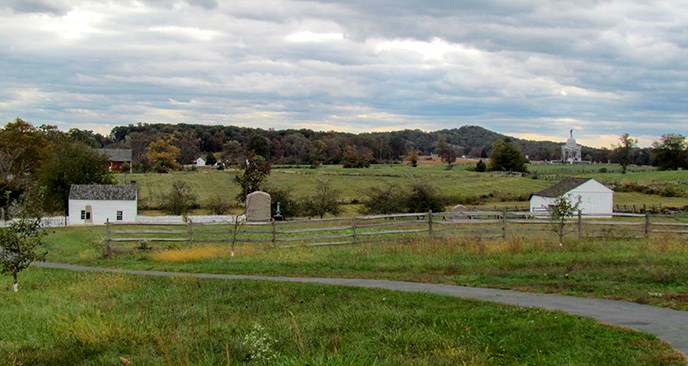 Gettysburg, Pennsylvania
For a heaping dose of American history coupled with gorgeous autumn scenery, look no further than Gettysburg, Pennsylvania. Visit the historic battlefield and drive through Gettysburg National Military Park to see where some of the most significant events of the Civil War unfolded. Choose from a variety of RV parks nearby to set up camp.
Glacier National Park, Montana
Once you lay eyes on this unspoiled, pristine mountain paradise, you will see why Glacier National Park is known as the "Crown of the Continent." The land is teeming with wildlife, including the mountain goat, the park's official symbol. Leaves begin to change color in mid-September. Gold larch trees create a brilliant, warm contrast to the rocky, snow-capped mountains. Starting in September, the park's busy summer season is over and attendance drops off. Additionally, wildlife becomes more active, making autumn an excellent time to visit for campers who crave solitude in nature.
Find a Park Near You
You don't need to go far to have a fall adventure. Be sure to check out Outdoorsy's extensive selection of Road Trip Guides to help narrow down a trip perfectly fit for you. Who knows— you may even find a spot that combines all five of these activities into one!